Camping is a lot more fun if you get a comfortable night's sleep. You don't have to throw a sleeping bag on the cold, hard ground. Instead, consider choosing between camping cot vs air mattress for your next camping trip – And if you don't know which would be best for you, we're here to help!
Camping Cot vs. Air Mattress: The Pros and Cons
A cot is typically made of nylon or polyester stretched over a lightweight aluminum, wood, or steel frame. They're usually made to fold and fit into a carrying case for easy storage and transportation. Air mattresses are made of PVC and must be inflated before use. An airbed feels more like a real bed. Conversely, the fabric of a cot is pulled taut across the frame for a harder sleeping surface. Depending on how far you'd like to be off the ground, both cots and mattresses are available in varying heights, ranging from a few inches to a couple of feet.
Each has its advantages and disadvantages:
Camping Cot Pros and Cons
Pros
It gets you off the ground and allows for air circulation underneath you as you sleep, which helps you stay cooler in the summer; if your tent floods, you won't get wet
Cots offer a firmer sleeping surface, which may be more comfortable for some sleepers
Set up and take down is easy
It can be placed on a variety of surfaces, even if the ground is rocky or uneven
Cons
It can be bulky and hard to carry
A good cot is typically more expensive than an air mattress, though both are available in a wide range of prices
Cots are typically made for one person
Air Mattress Pros and Cons
Pros
It feels more like a real bed, and you can inflate it more or less to match your preferred level of firmness
You can buy air mattresses in a variety of sizes if you want to accommodate more than one person in the same bed
It's easy to pack
Air mattresses are warmer in the winter, since it doesn't allow for airflow underneath the sleeper
Cons
It could get punctured if placed on a sharp rock or stick, and it may slowly deflate throughout the night
 Air mattresses must be inflated, so you might have to pack extra equipment or put your lungs to work
 They take up more space in your tent, since you can't store anything underneath it
When to Choose a Camping Cot vs. Air Mattress
There are several types of camping trips or scenarios when a cot may be the best choice for you. In other cases, an air mattress may be a clear preference. One major consideration is the size of your tent. This will impact how high off the ground your cot or mattress can be and whether you choose a narrow cot or a king-sized airbed. If you're going on a long hike to the campsite or a multi-day hike leading from campsite to campsite, the size and weight of your cot or mattress may be your biggest concern.
Because air mattresses are prone to punctures, you may also want to consider how often you use them and where you set them up. If you take numerous wilderness camping trips each year and continually set up your mattress on rocky ground, you may eventually get a hole in the mattress that leaves you sleeping on the ground after all. If you choose an air mattress, you may want to purchase a patch kit. This will enable you to fix the holes and continue to inflate your mattress. 
The least expensive cots still cost more than the least expensive air mattresses. But they may last longer and save you money in the long run if you regularly camp in rugged conditions. 
When to Pack a Camping Cot
For multi-day camping trips that include changing campsites every night, a cot is much easier to pack and unpack. If you take an air mattress on a trip like this, you'll have to inflate it every night and deflate it every morning. After deflating, mattresses must be carefully rolled to fit back into their carrying case. 
If you need to make the best use of your space inside your tent, a camping cot often comes with storage options. Plus, you'll have the space under the cot to keep some of your other gear. 
If you're camping in hot weather, a camping cot may be more comfortable. If there's a chance of rain and flooding in your tent, a cot is also a preferred choice.
When to Pack an Air Mattress
Are you taking a romantic camping trip? If you prefer to sleep in the same bed as your partner, you can take a double, queen, or even king-sized air mattress. 
For a family camping trip that involves hiking to the campsite, it's easier to carry two or three air mattresses than it is to carry cots for every member of the family (unless, perhaps, your kids are old enough to carry their own cots!). 
If you sleep on your side and need to ensure a good night's rest, you'll probably want an air mattress. Cots are firm and typically not especially comfortable for side or stomach sleepers. Whereas, an air mattress can be inflated or deflated to adjust the firmness.
If you move around a lot when you sleep, an air mattress will offer more space and flexibility. A cot is narrow and hard, which makes it more difficult to change sleeping positions. 
Air mattresses are better for cold weather since they offer more insulation against the cold. 
Best Camping Cots and Air Mattresses for Your Next Camping Trip
There are a wide range of camping cots and air mattresses on the market, designed to fit various preferences and budgets. While cots are usually made for one person, they do come in a variety of heights, and some include insulated pads on top. Air mattresses can be single, double, queen, or king-sized. Additionally, they're also available in different heights, ranging from just a couple of inches to two feet off the ground.
Coleman Pack-Away Camping Cot
Coleman Pack-Away Camping Cot
amazon.com
Check price
Adjustable camping cot offers an ideal place for sitting, reclining, and sleeping
Removable side table with drink holder provides space for snacks and personal items
Durable steel frame can support...
Can be adjusted for sitting, reclining, and sleeping
Includes removable side table with cup holder
Steel frame accommodates up to 300 pounds
Offers a sleeping area of 80 x 32 inches
Disc-O-Bed Large Cam-O-Bunk Bunked Double Camping Cot
Can be set up as two separate beds or as bunk beds to save space
Each cot supports up to 500 pounds with a sleeping area of 79 x 28 inches
Includes two side organizers that hang from the side of the cots
Available in several colors
Coleman Trailhead II Cot
Coleman 765353 Trailhead II Military Style Camping Cot
amazon.com
Check price
ELEVATED COMFORT: Eliminates the discomfort of sleeping on rough or cold ground
BUILT TO LAST: Strong cross-bar steel frame
SUPPORTS: Up to 300 lb.
MAX HEIGHT: 6 ft. 2 in.
DIMENSIONS: 73 x 35 x 17 ...
Basic military-style cot offers an economical option without any frills
Durable and easy to fold
Size 73 x 35 x 17 in
ShangQuan WuLiu Folding Cot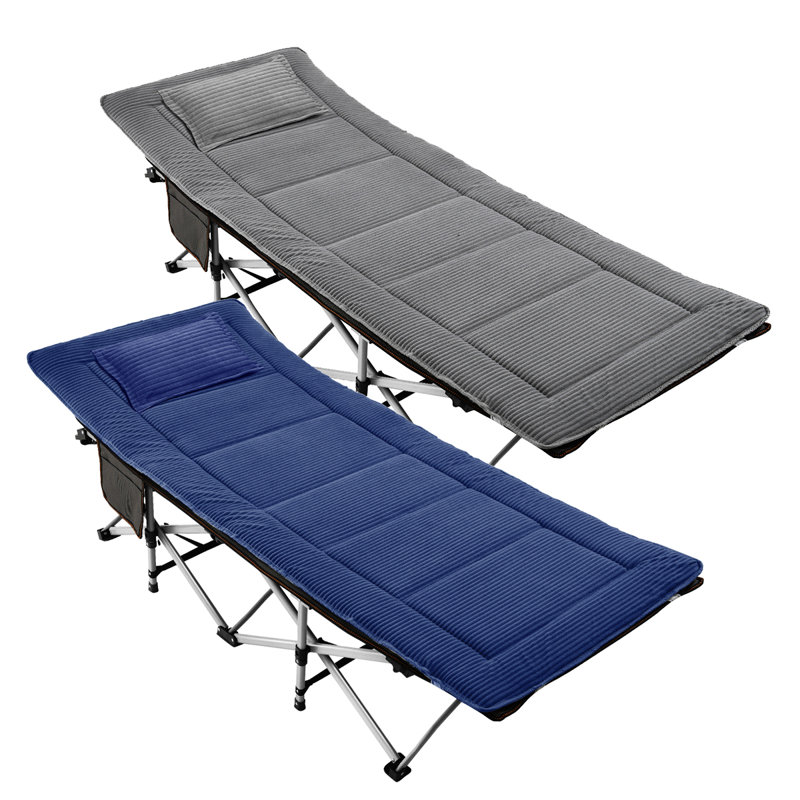 2Pcs Folding Camping Cot
wayfair.com
Check price
1. Made of Oxford cloth 600x600DPVC, environmental protection and durable.2. Different Types, Folding Camping Bed Double Layer Stripes with Corduroy,or Folding Camping Bed Double Layer Stripes 4D B...
Weighs 17 pounds
Features a cotton pad for greater comfort
PORTAL Folding Portable Camping Cot
Durable steel frame is easily folded for transport
Size 83 x 30.5 x 19 inches supports up to 300 pounds
Includes convenient side pockets
Coleman Camping Cot, Air Mattress, and Pump Combo
Air mattress and cot in one
Available in queen or twin size
Easily portable in a carrying case (Queen weighs 22.5 pounds, and twin weighs 13.88 pounds.)
Includes side table with cup holder
Coleman Inflatable Airbed
Queen-size mattress 78 x 58 x 14 inches
Includes removable insulated topper and battery-operated pump for easy inflation
Double Lock valve reduces risk of leaks
EnerPlex Air Mattress
Available in queen or twin size, 13, 16, or 18 inches high
Built-in pump inflates the twin mattress in about two minutes
Waterproof and durable with an anti-slip bottom
Dura Beam Standard Rest 10″ Air Mattress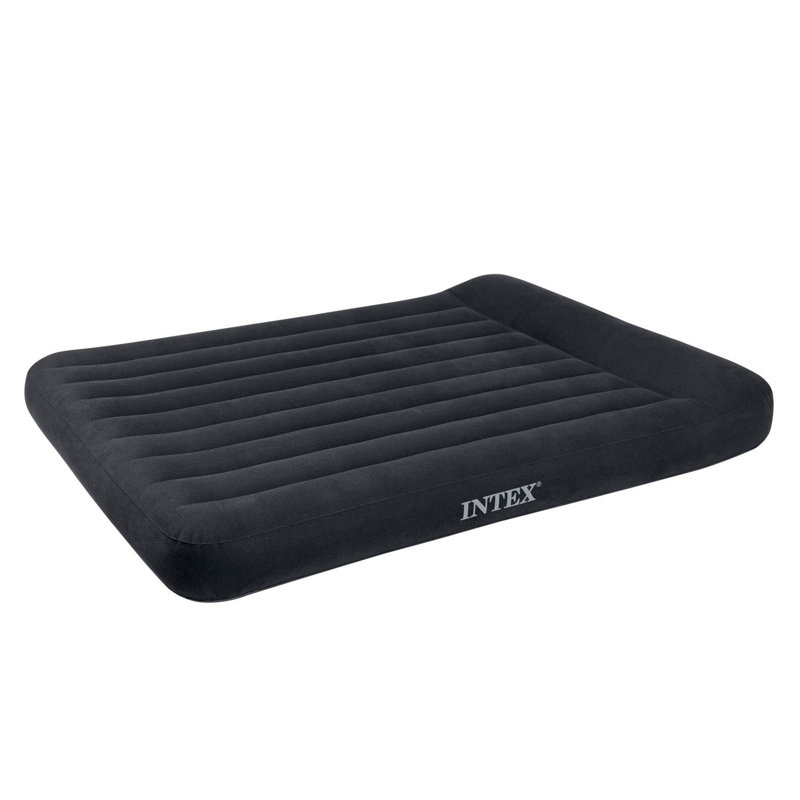 Features a built-in pump and built-in pillow
Queen air mattress inflates in about three minutes and can support up to 600 pounds
Etekcity Camping Air Mattress
Twin supports up to 450 pounds; Queen supports up to 650 pounds
Wireless rechargeable pump
2-in-1 valve allows for quick inflation, then a "top up" of air to adjust firmness
King Koil Luxury Raised Air Mattress
Available in twin, queen, or California king sizes, in 13, 16, or 20 inches high
Comes with a 1-year warranty and a patch kit to fix punctures
Built-in 120v / 210w AC pump
Sleepingo Camping Sleeping Pad
Ultralight and packs down to the size of a water bottle for easy carrying
Two inches of sleep support
Made of ripstop nylon
Affordable choice for minimalist campers
Many avid campers like to invest in both a cot and an airbed to accommodate different types of camping trips. In the end, the question of camping cot vs. air mattress comes down to a few basic considerations. These include how much space you have in your tent, whether you're camping alone, with a partner, or with your family, whether you're hiking or driving to your campsite, and how much space you have to carry a cot or an air mattress, and your comfort preferences.
There's no right answer or wrong answer when weighing air mattresses vs. camping cots. It's just about what's right for you. 
Post ID: RGyy6Bd11
Category ID: 8mnzg6x
The responses below are not provided, commissioned, reviewed, approved, or otherwise endorsed by any financial entity or advertiser. It is not the advertiser's responsibility to ensure all posts and/or questions are answered.