If you're out camping and come across an angry bear, you need the best bear spray at your side. Whether you're hiking, backpacking, kayaking, or just hanging out, there's always a chance of animals coming into your campsite. Anytime there's a chance of meeting a bear, you need to make sure you have the proper protection. If you're looking for avoid bears on the trail, keep reading for the best bear spray reviews and ratings.
The 5 Top Bear Sprays
There are a lot of good bear sprays for helping you handle wildlife encounters, but what is the best bear spray? We can't decide for you, but all of these bear sprays are quality products you can trust in a tight spot. And if a bear charges you, that certainly qualifies! Here are our top picks, with the pros and cons noted. Keep reading for the top five best bear sprays and why we loved them.
* Ratings are determined using our specialized rating system.
SABRE 9.2 oz Frontiersman Bear Spray & Repellant
The SABRE Frontiersman Bear Spray 9.2 oz has a very strong spray fog and an excellent maximum range of 35 feet. Frontiersman is non-flammable and does not contain ozone-depleting chemicals. It is the only spray I looked at specifically approved by both the EPA and Health Canada. The extremely strong spray fog is delivered by a dual-propellant system, which means it can still be effective at its maximum range.
SABRE tests Frontiersman Bear Spray at their in-house HPLC lab to make sure it is effective and also to eliminate the 30% fail rate experienced by consumers with some other bear sprays. This is one product you definitely don't want to experience failure with! Frontiersman was also tested and found effective on charging bears by both Brown Bear Resources and Elmendorf Air Force Base. The combination of long maximum range, heaviest fog, and proven field testing makes it a great choice.
Pros
Effective distance of 35 feet
Heaviest protection fog, 1,84 oz, per 1 second burst
Non-flammable and no ozone-depleting chemicals
EPA and Health Canada approved
Both in-house and field tested against all types of bear
Practice spray available
Canister empties quickly, in 5 seconds, but heavy fog compensates
Cons
Canister empties quickly, in 5 seconds, but heavy fog compensates
Counter Assault Maximum Strength Bear Spray
The Counter Assault Maximum Strength & Distance Bear Repellent Spray reaches farthest of all these bear sprays: a whopping 40 feet. That is just a touch farther than the Frontiersman. This made me wonder if that extra couple of feet made much difference. The spray does contain the maximum 2% capsaicin and capsaicinoid products utilized in bear sprays.
Counter Assault also has an eight-second spray burst, among the longest of all bear sprays. It comes in a variety of purchase choices, and includes a tactical holster and night glow locator. Counter Assault meets or exceeds all EPA Significant New Alternative Policy (SNAP) requirements.
Pros
EPA approved maximum 2% capsaicinoids
Farthest range, effective up to 40 feet
Eight-second continuous spray
Only Bear Spray that meets or exceeds all EPA SNAP requirements
Gas dispersal occurs too close to user
Cons
Gas dispersal occurs too close to user
UDAP Bear Spray Repellant With Camo Hip Holster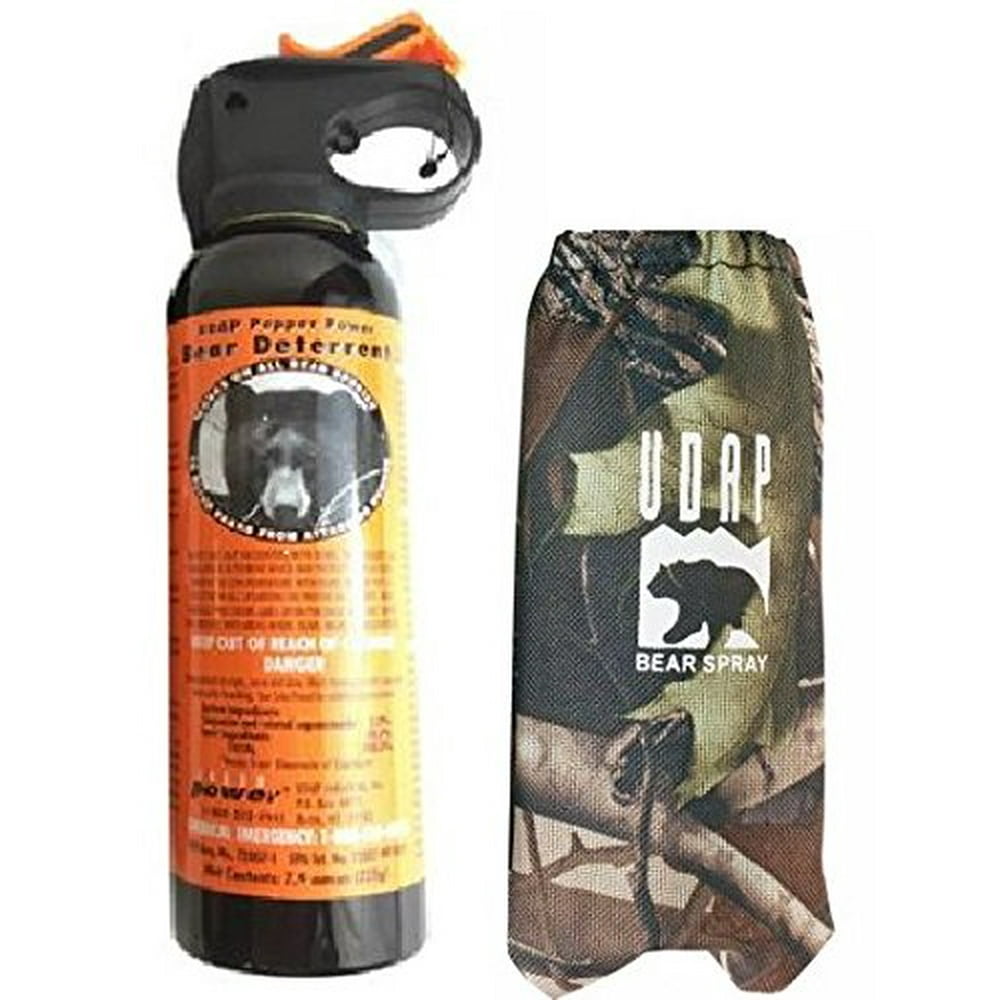 The UDAP Bear Spray with Camo Hip Holster was developed by a bear attack survivor. That tells you right there it's a quality product. Mark Matheny was attacked by a grizzly bear over a decade back and luckily stopped it with a pepper spray product. He was seriously injured, however.
He has since worked to bring the best outdoor bear spray to hunters and other outdoors enthusiasts. UDAP contains 2% capsaicinoids, the maximum strength for bear sprays. It contains no ozone depleting chemicals. It comes with a glow in the dark safety clip. The spray is oil-based for lasting spray deployment.
Pros
30-foot fog type spray
Maximum EPA approved 2% capsaicinoid strength
Developed by a bear attack survivor
Comes with camo hip holster
Trigger not well configured for burst fire
Cons
Trigger not well configured for burst fire
Mace Brand Bear Pepper Spray
Mace is an established company that has been making self-defense and bear spray products for years, and the Mace Brand Bear Pepper Spray & Repellant is no exception in quality. Mace bear spray has a 35-foot range, and is the maximum EPA approved strength, with 2% capsaicinoids. It uses a fog distribution, so your aim dosn't have to be perfect if you come across a bear while camping.
Every can of Mace Brand Bear Pepper Spray has a three-year shelf life and is clearly labeled with an expiration date. Any sort of bear spray that is past its expiration date won't have the pressure to spray properly. When buying a can of bear spray, ensure it's in date for the best results.
Pros
35-foot range
Maximum EPA approved formula
Made in the USA in Cleveland, Ohio
Canister empties in six seconds
Cons
Canister empties in six seconds
Guard Alaska Bear Spray with Nylon Holster
Guard Alaska Bear Spray with Nylon Holster uses a formula scientifically proven by the Alaska Science and Technology Foundation. It is the only bear spray registered by the EPA to be effective against all species of bear. It contains 1.34% capsaicinoids. That's within the allowed 1% to 2% deemed effective against bears, but weaker than some other sprays.
It comes with a holster and belt loop for easy access, and it doens't contain any ozone depleting chemicals. Now, all of the sprays listed are humane and effective ways to handle attention by bears. Hikers who spend time in areas bears inhabit should certainly carry one of them. Guard Alaska was tested for six years in the Alaskan wild country.
Pros
Field tested in the Alaskan wild country
Comes with nylon holster
EPA certified for all species of bear
Range is only about half of the top choices at 15-20 feet
1,34% strength is less than some others, though still within acceptable limits
Cons
Range is only about half of the top choices at 15-20 feet
1,34% strength is less than some others, though still within acceptable limits
Important Bear Spray Features to Consider
When buying the best bear spray, there are a few different features to look out for in order to find the best one for unwanted wildlife interractions. Here are some of the most important aspects of a bear spray.
Range
When it comes to range, 15-20 feet is the minimum that you should look for. With bear sprays, the longer the range, the farther away from the bear you can be to use it. At least a few of these had ranges of 30-35 feet, with one at 40 feet.
Strength
The capsaicinoid concentration in bear sprays ranges between 1 to 2 percent, per the EPA. Somewhere right below 1% (.857) is the minimum effective amount. Closer to 2% is better, but anything in this range should work well.
Spray Duration and Fog Strength
Both of these are important. Higher fog strength does usually translate into a lower spray duration. Bear spray canisters have a tendency to run out of spray quickly, so you should look for one with the longest duration to ensure you can spray a bear if you see one.
Accessibility
Some bear sprays come with a handy holster that you can attach to your belt or backpack. This makes the bear spray more accessible when you need it. After all, having a can of bear spray is useless if it's buried in your backpack when a bear sees you.
Are Bear Spray and Pepper Spray the Same Thing?
Some are tempted to use one of their regular less expensive pepper spray products in place of spray designed specifically for use against bears. Not a great idea! The capsaicin and related capsaicinoids are formulated differently for pepper spray. Also, the stream spray patterns for pepper spray are generally narrower and more precise, made for close-up self-defense.
Regular pepper sprays are also sold in smaller canisters that might not have sufficient product to stop a charging bear. Capsaicin and the capsaicinoids make up the chemical in chili peppers that irritates the eyes, lungs, and skin so badly, and gives chili peppers their "heat". The EPA regulates bear spray so it has enough capsaicinoids to deter bears but not cause permanent damage.
Benefits of Using Bear Spray
Bear spray is one of those products that bring peace of mind while camping. You never want to use it, but it permits you to enjoy whatever wilderness pursuit you love knowing that you can safely and effectively deter a bear, without causing permanent harm. Also, the spray cones of these top sprays have been found to be much more effective than trying to stop a bear with a gun.
It's very difficult to hit a charging bear accurately enough with a bullet to stop it in its tracks. It takes, they say (and I believe it), nerves of steel. Many folks really don't want to shoot a bear. And even if shooting does work, it will likely cause the death of an animal that was likely only trying to defend its cubs or territory. So, bear spray benefits both those of us who enjoy the outdoors and the bears themselves. It's the best, most practical solution for all parties.
Precautions When Using Bear Spray
The bear spray expiry date should always be checked to make sure the product is still effective. Bear spray doesn't deter bears when sprayed on objects, but only when sprayed directly on the bear. Bears don't usually attack humans unless provoked. They prefer to slip away.
Bears are natural predators, so the last thing you want to do is turn and run. A bear will come after you, and it will catch you. Bears can run 30 miles per hour for short bursts. Bear spray won't do you any good unless you can get to it quickly. It should be carried in a holster, preferably a noiseless release holster that won't set the bear off. If you can get upwind of the animal, that is best.
When a bear is charging you at nearly 50 feet per second, you want the highest effective range possible, and you want to know your bear spray is going to work. Check the effective range of your bear spray, and make sure you are within that range when you use it. As with anything else, practice is a good idea, and some manufactures built their cans to allow one practice spray.
When camping, you can take actions to help prevent coming across a bear. The easiest thing to do is purchase a bear canister to place all of your food in so bears can't smell it and come investigate and bear bells to keep bears away on the trails. In the campsite, you can also set up a bear hang where bears won't be able to reach your food.
Conclusion
While any of these bear sprays should certainly do the job, I could only rank one as the best bear spray. Based on the factors listed above, my overall pick for the best bear spray is SABRE Frontiersman Bear Spray. It combined maximum effective EPA capsaicinoid strength with one of the longest effective ranges at 35 feet. It also delivered a very heavy fog of 1.84 ounce per one second burst. Counter Assault, at 2% strength capsaicinoids, and a range of 40 feet, with a night glow locator, was a very close second, but somewhat pricier.
The Guard Alaska Bear Spray had a shorter range, compared with the SABRE Frontiersman and Counter Assault sprays. To me, the in-house and field testing of the SABRE Frontiersman Bear Spray was a determining factor. Also, a practice spray is available from SABRE. I think it's reasonable and advisable to practice this skill set once or twice. The odds may be long against a bear attack, but if it does happen, you'll want to be familiar with the spray and its characteristics. And you'll definitely want the best bear spray you can put your hands on!
Post ID: 1AKDKBnej
Category ID: 1O6DxQR
The responses below are not provided, commissioned, reviewed, approved, or otherwise endorsed by any financial entity or advertiser. It is not the advertiser's responsibility to ensure all posts and/or questions are answered.