The 5 Best Boat Grills
Finding the best boat grill can be a daunting task, particularly for picky campers like me. It is natural to look forward to those days when you just want to get into your boat, set sail and drift away with the sunset. If you are planning to spend a few days on a water voyage, you are not prepared adequately if a boat grill is not part of your preparations. Read our boat grill reviews & ratings to find the top boat gril for your needs today.
The 5 Top Boat Grills
We can all agree there is no better way to spend a beautiful night on the water than enjoying some freshly grilled meat. The best boat grill saves you the trouble of finding and paying overpriced restaurants. Grilling outdoors and on the water is a wholly and unprecedented experience that we all would like you to try someday. Take a look at the five best boat grills to help you narrow down your choices.
* Ratings are determined using our specialized rating system.
Kuuma Stow and Go Propane Tabletop and Mountable Grill
Our top pick for the best boat grill is the Kuuma Stow and Go Propane Tabletop and Mountable Grill in Stainless Steel because it has a beastly performance. It is a good deal for anyone new to the waters as it easy to install and offers a perfect balance of security. This is a simple camping grill, but it's also capable of withstanding the harsh marine conditions. Its stainless steel material makes it durable, as it is rust free and corrosion-proof.
This grill is also designed to use disposable gas bottles for more accessible storage and portability. However, if you have a long voyage, you may want to consider using larger refilling tanks, which are also compatible with the grill—whether you're using a natural gas grill or a propane grill. The grease tray is easy to remove, clean and return.
Pros
Easy to install, portable, and affordable
Made from stainless steel
Secure and sturdy with heavy-duty brackets
Offer a small cooking area
Cons
Offer a small cooking area
Camco Olympian 5500 Stainless Steel Portable RV Grill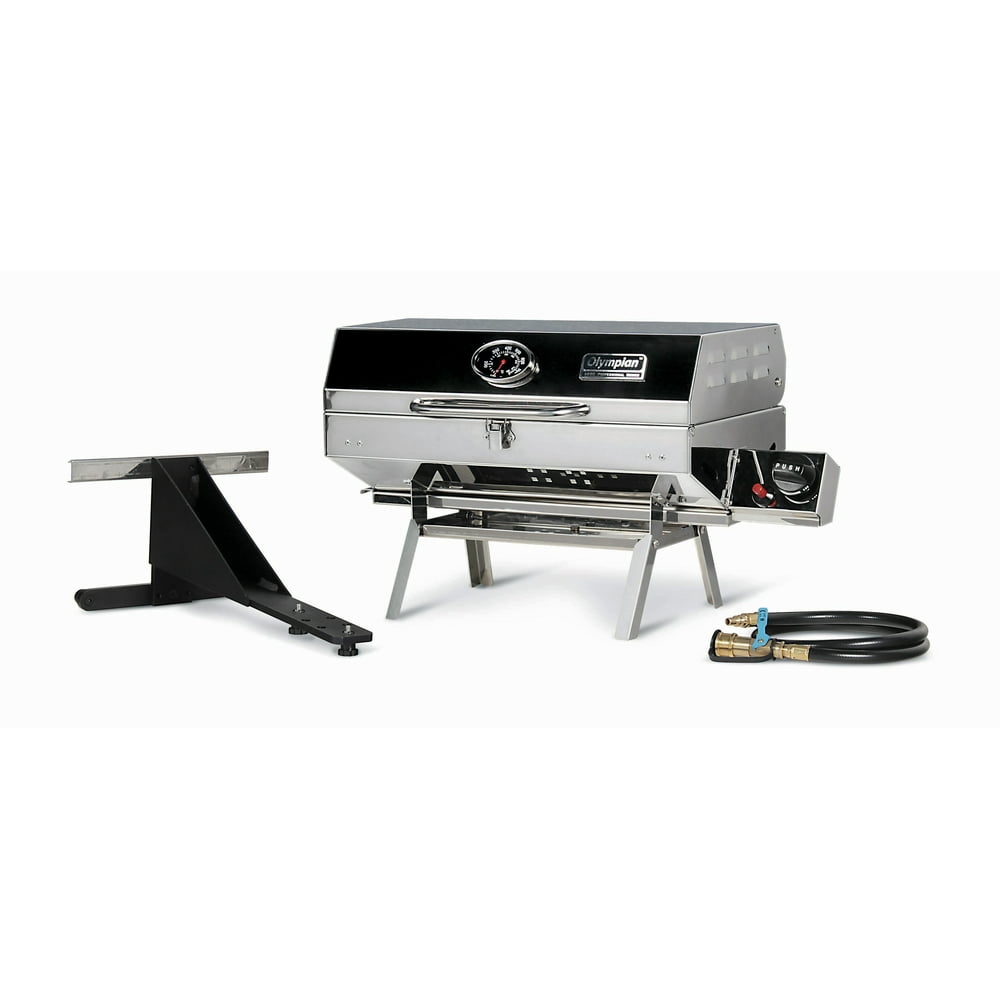 The Camco Olympian 5500 Stainless Steel Portable/Rv Grill is designed to increase convenience. It can be used virtually anywhere, especially in RVs. Its metallic construction has a reputation for durability. It is lightweight and easy to carry around. With 180 square inches of cooking space, it is safe to say the Camco Olympian 5500 Stainless Steel Portable/Rv Grill is just large enough to cook for more than five adults in one single go. As if that is not enough, you don't need to wait hours for your food to cook, as the grill burners burn at 12,000BTU/h.
This grill also has a feature where you can regulate the temperature control around your cooking. This portable grill is one of the best boat grills and an excellent buy for anyone who takes short voyages, entertains visitors, or cooks many meals at once.
Pros
Easy to clean
Made of durable metallic material
Smooth set up process
Can be used in an RV
Quick-connect hose and valve
Material is rather flimsy compared to other boat grills
Cons
Material is rather flimsy compared to other boat grills
Coleman Camp Propane Grill with Wind Block Panels
Coleman Camp Propane Grill
amazon.com
Check price
Versatile outdoor grill ideal for camping, hunting, and tailgating
Delivers 11,000 btus of heat across 180 sqaure inch of grilling surface
Wind block panels shield burners from wind and fold down f...
Many people highly recommend the Coleman Camp Propane Grill with Wind Block Panels due to its portability. Its portable nature allows it to stand out almost anywhere, and you can enjoy your barbecue hassle-free. You can use it while on the water, hunting, camping, and even as a tailgate grill. The heat distribution of the 10,000BTU /h burner cooking surface complements this creatively designed grill. Thus, you don't have to waste fuel getting your favorite chicken thighs or ribs seared to perfection. The cooking area is relatively big to offer enough room for some steak and a few burgers without crowding them.
When cooking, worry not about the wind messing up your culinary prowess, as the grill comes with wind block panels to help keep your grill on the entire cooking period. The Coleman Camp Propane Grill with Wind Block Panels possess a porcelain covered grate to ensure your cleaning is fast and easy. If still worried, this grill includes a removable grease tray to hold all the juicy drippings and help leave the rest of the grill in excellent condition.
Pros
Porcelain grated tray for easy cleaning
Large cooking space
Perfect heat technology for less fuel
Great performance
The grate can get too hot
Cons
The grate can get too hot
Char-Broil Grill2Go X200 Portable TRU-Infrared Liquid Propane Gas Grill
While it may not be the prettiest marine grill in our review, the Char-Broil Grill2Go X200 Portable TRU-Infrared Liquid Propane Gas Grill could not miss out in our list of the best boat grills because it has some great features. First and foremost, the design allows it to get hot quickly so you can have your food evenly cooked in the shortest time possible. It does this while still maintaining a low usage of propane and also not burning anything else around it.
The grill is portable and sturdy. There are no hot spots, and everything, including the gas canister, fits well for easy carrying. However, it is a table only grill, meaning you cannot mount it using brackets. When turned on, the grill emits more smoke than expected, but it disappears once the whole grill heats. This shouldn't be a bother, especially in the open air and the problem should not last long. With this said, both function and price place this grill a notch higher.
Pros
Includes a stainless steel cooking grate
Powerful TRU-infrared system
High grilling temperatures with a sturdy construction
Portable
200sq cooking space
Cannot keep lower temperatures of below 450 degrees for lengthier periods
Cons
Cannot keep lower temperatures of below 450 degrees for lengthier periods
Magma Marine Kettle Gas Grill, Stainless Steel, Adjustable Control Valve
Our best boat grill list couldn't be complete without the honorable mention of the Magma Marine Kettle Gas Grill in Stainless Steel with Adjustable Control Valve. If you are looking for something unique with a sleek design like a flat-top grill, this boat grill may just be the perfect choice for you. This unique design comes with a control valve and swiveling turbo to block wind and keep blowouts at bay–an essential feature for boat cooking.
This grill is faster and has tastier cooking than other grills. It allows you to get the precise results that you would expect in a barbecue. There is adjustable height to help you have a comfortable cooking moment for various types of foods. The temperatures are easy to control, so there is no room for burnt food.
Pros
Heat resistant plastic handle
Easy-to-control temperature
Stylish design
Includes sealed ash compartment and charcoal grate
Spacious cooking area
Heats quickly and cooks fast and evenly
Easy to install
Susceptible to rust
Features to Consider for the Best Boat Grill
If it is your first time purchasing the best boat grill, it is easy to feel overwhelmed, especially now when there are many choices. There are critical features to look for and new terminology to be aware of. We have compiled a list to help guide you straight to your best boat grill.
The Type of Fuel
Like all the other basic grills, a boat grill can either be powered by electricity, gas or charcoal. All of these have their pros and cons, but I would highly recommend propane or gas grill for using in a boat, as you can purchase it in small bottles for easy transportation. I usually find gas to be more affordable, especially when I am taking a long voyage.
Charcoal grills are messy and hard to keep dry in a water-surrounded area. It also takes up lots of space. Electric grills consume a lot of the boat's power, which can make it more expensive.. A combination grill may be a better option to have versatility while grilling on a boat.
Material Used
The material used to make the grill is quite essential as it speaks volumes about the durability. The best boat grills have to withstand water, air, temperatures and salt water. Stainless steel material is the term to look for when purchasing your grill as it is stain and rust-resistant.
However, keep in mind there is more than just one type of stainless steel. Look for 316 stainless steel–it is the ideal option. It lasts longer than the 304 stainless steel. High-quality grills use doubled layers to prolong life and prevent discoloration.
Cooking Power
The type of fuel you choose significantly determines the cooking power you will need. If you choose a gas grill, you would be dealing with a CNG, LPG system or a propane canister. The propane canisters are ideal for grilling onshore or when beaching. The BTU range on the canister determines how long it will last. The higher the BTU, the more heat there is.
The Cooking Space
Whether you like boat riding alone or in groups, the best boat grill has to have a huge cooking space to warm your overall boat cooking experience. The primary cooking area is the surface itself or the area with direct heat. Some may come with multiple burners, so a two-burner grill or grill with more options may be advantageous for use by large groups.
Warming Rack
A warming rack is another great feature to look for when buying a boat grill. It is perfect for toasting a few burger buns and ideal for grills with little cooking space. It can also serve as a microwave to reheat a side dish. If you have guests on board and need to serve your meat at the same time, a warming rack can help you keep it warm as you cook the rest of the food. A warming rack helps organize your cooking area and makes it less crowded.
Benefits of Using Boat Grills
Like I mentioned earlier, cooking on the water is a whole different experience from cooking on land. It is any voyager's dream to have a typical life on the water. The best boat grill will offer you that hot tasty meal you've been yearning to have when you get home.
Most boat grills are portable, meaning you can bring them along almost anywhere you want. The best boat grill is an excellent addition to your open water adventures, and you can forget about the old tradition of packing meals and eating them cold.
A boat grill is quite convenient and can be exceptionally valuable to chefs and other water enthusiasts who enjoy cooking. Last but not least, boat grills are economical.
You will save a great deal of cash when cooking your meals than buying. Talk about convenience; armed with the best boat grill, you can prepare almost everything anytime you want to.
Purchasing the best boat grill means you can enjoy your time in water and still enjoy taking your favorite meals. Who wouldn't look forward to that?
Precautions of Using Boat Grills
While the market provides various options for the best boat grill, there is a lot of difference in each bbq grill. This means you need to weigh down your features and give priority to the most important to help you narrow down your choices.
Most boat grills are safe to use, but it is always essential to take precautions when using them. Here are a few precautionary measures and safety tips to help you stay safe while enjoying your freshly cooked meals.
Avoid using the highest heat settings on your grill. This may cause fire outbreaks and unnecessary burning of food.
Keep your grill in an open area every time you grill to prevent carbon monoxide from accumulating in the enclosed areas.
Always wear protective grilling clothes to protect yourself in case of burns.
Avoid burning fatty meat to reduce flare ups, which can be dangerous, especially with children around.
Mount or place your grill securely far away from children and never leave your grill unattended.
When you're done with grilling, keep your grill in a dry, secluded area away from elements like water and direct sun.
Clean and dry your grill before putting it away to prevent salt from causing corrosion on the protective layer, which may cause rusting.
Conclusion
Boat grills are getting popular every day. Choosing the best to suit your needs isn't always going to be easy. Of the five best boat grills we reviewed, we find the Kuuma Stow and Go Propane Tabletop and Mountable Grill in Stainless Steel a top choice. The grill performs well in extreme weather conditions as it is made of stainless steel, durable material. It doesn't rust and cooks better than the other four models on this list. It is also affordable. I hope this article gave you the information you need. Happy grilling!
Post ID: dmRARkwBK
Category ID: QM3G5rk
The responses below are not provided, commissioned, reviewed, approved, or otherwise endorsed by any financial entity or advertiser. It is not the advertiser's responsibility to ensure all posts and/or questions are answered.