The 5 Best Campfire Rotisseries
When you're cooking, the best campfire rotisseries can elevate your cooking among your camping group. There's nothing like sitting out under the stars and enjoying the sights and sounds of nature. The only way to make it even better is by having a good campfire rotisserie to make food on the campfire. We'll look at the best campfire rotisseries available to enhance your next camping trip with friends and family, so you can have a great dinner before it's time for s'mores. Read our campfire rotisserie reviews & ratings to find the best campfire rotisserie today.
The 5 Top Campfire Rotisseries
Getting the best campfire rotisseries out there requires a lot of research and comparisons to get the best bang for your buck and avoid ending up with a dud of a product. We've done all of the heavy lifting for you as we've found the best five campfire rotisseries out there.
* Ratings are determined using our specialized rating system.
Grizzly Campfire Polished Steel Spit Rotisserie
Grizzly Spit Rotisserie
amazon.com
Check price
2-26" vertical support rods
1-36" Polished steel support bar
2-spit forks
1-gear reduction motor will run 20 hours on 2 D-cell batteries
canvas storage bag
The Grizzly Spit Campfire Rotisserie has a lot of good things going for it to make our list of best campfire rotisseries. The Grizzly Spit comes with a battery-powered motorized rotisserie to rotate your food at an even speed to help with cooking evenly. It's portability means that you can take this rotisserie anywhere and make great food. It comes with two 26″ vertical support poles, two spit forks, and a three-foot cross bar made of polished steel. The rotisserie also comes with a canvas storage bag to keep your rotisserie out of the elements when not using it.
The gear reduction motor used in the rotisserie runs on 2 D-cell batteries which will supply about 20-30 hours of rotation before having to replace the batteries. The mechanism works great and it saves on you having to hand crank the rotisserie which would become tiresome after a bit. Once you have your food settled in on the pole, it's just a matter of turning the motor on and you're all set!
Pros
Easy to use
Motorized rotisserie rotates food at constant speed for easy cooking
Comes with a travel bag to help transport it
Battery-powered, will have to replace batteries every so often
Cons
Battery-powered, will have to replace batteries every so often
Titan Outdoors Stainless Steel 125 lb Capacity Campfire Rotisserie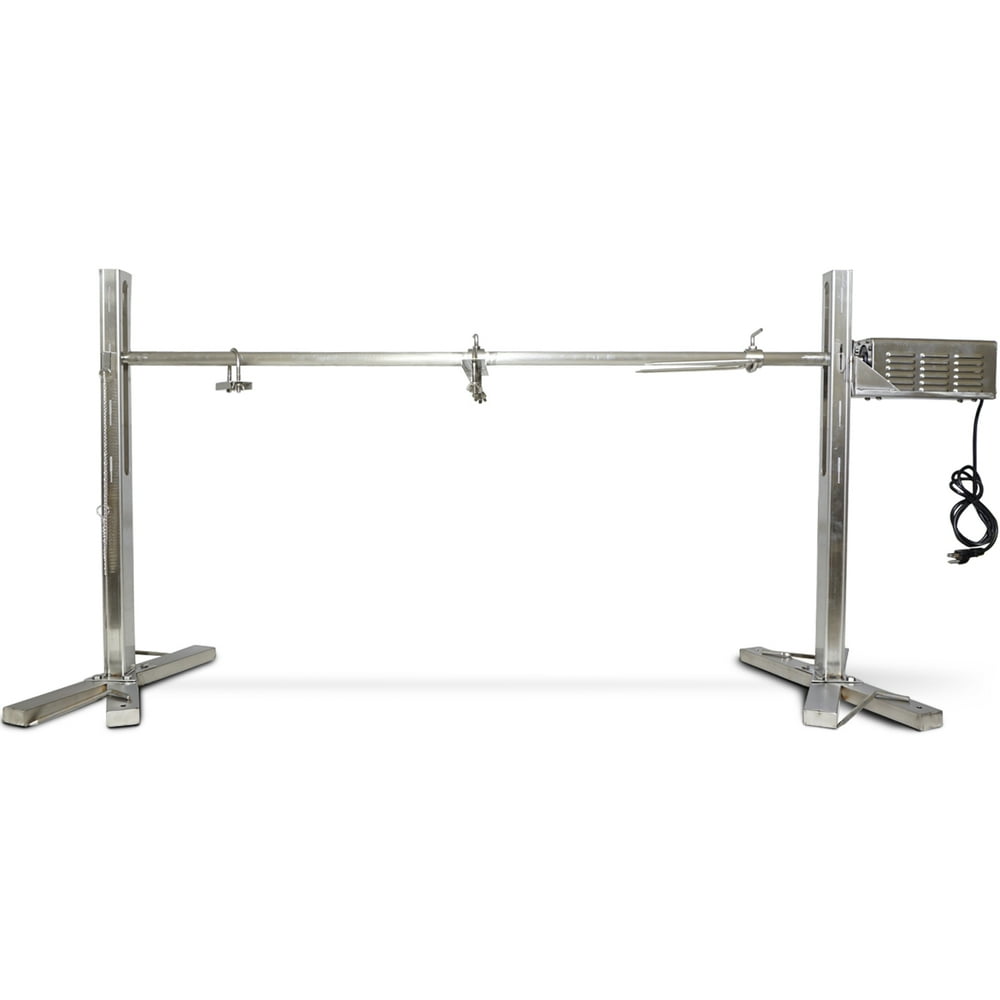 If the best campfire rotisseries were military units, the Titan Outdoors Campfire Rotisserie System Tripod would be a huge tank! This rotisserie is made to last and made to cook a lot of food. It comes with a 25W motor to spin your food and due to its construction, you can put a whole pig or other game onto the rod as it is rated for up to 125 pounds.
The unit is made out of stainless steel and has four tiers of cooking height adjustments to control the amount of heat. The rotisserie also includes anchors at either end to shore up the unit for heavier food such as whole game. The rotisserie comes with a durable 51-inch spit to handle pretty much anything you throw at it, food-wise. Clocking in at 28 pounds, this unit Is one of the heavier ones that we've reviewed, but its still lightweight enough to be portable.
Pros
Durable and sturdy construction
Heavy-duty spit + anchors = being able to cook a whole hog
25 watt motor spins the spit at 4 RPM
Need to be near an electrical outlet as the motor uses a conventional plug
This is the most expensive unit on this list
Cons
Need to be near an electrical outlet as the motor uses a conventional plug
This is the most expensive unit on this list
Stansport Heavy Duty Campfire Rotisserie Grill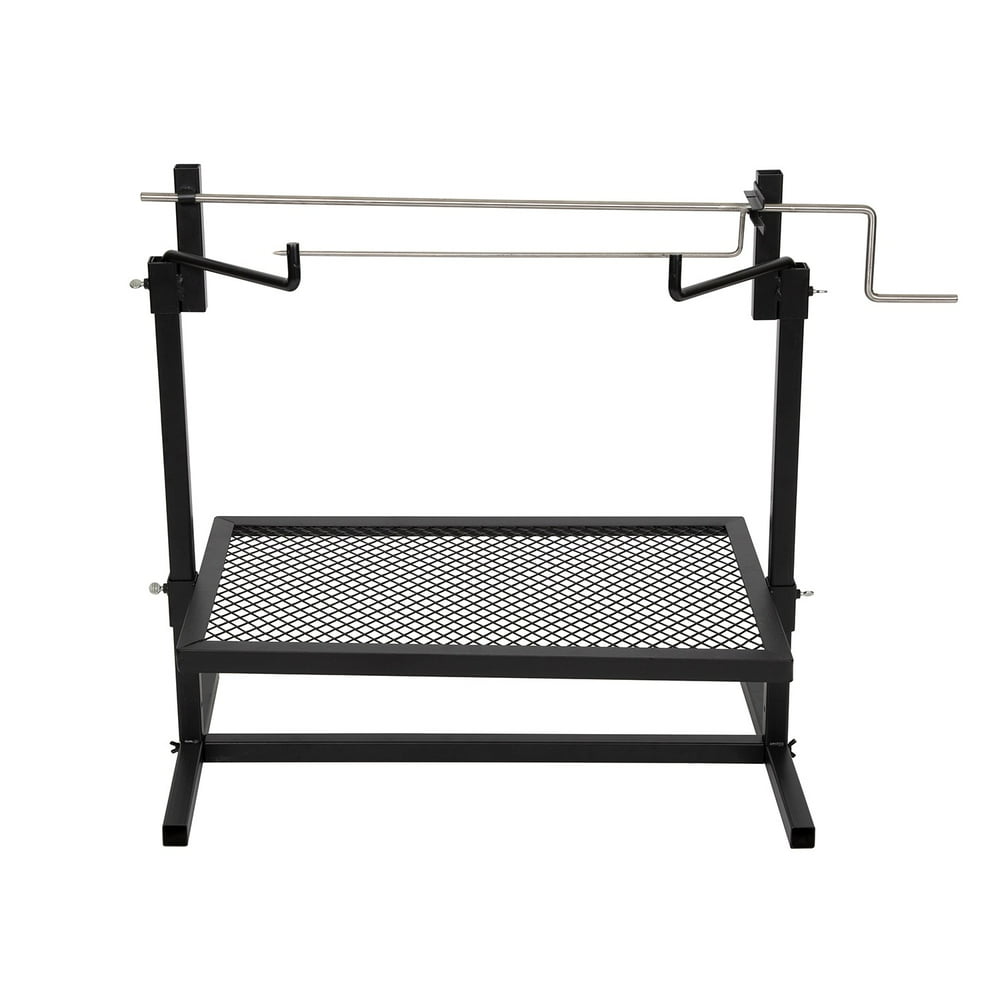 For those of us who eschew modern amenities such as motorized spits and want to keep it "old school", the Stansport Heavy Duty Rotisserie Grill keeps it old-school with a durable construction of steel rods and spit. The Stansport makes use of an all-steel construction and adjustable height to control the amount of heat you need on to your food.
This rotisserie also has a locking feature to keep your grill anchored and the spit stable while turning to prevent any swivel mishaps. These features give the Stansport a great spot on our list of best campfire rotisseries.
Pros
Reasonably priced
All-steel construction
Locking mechanism
Traditional rotation means physically turning the spit to cook your food
Does not come with a travel bag
Cons
Traditional rotation means physically turning the spit to cook your food
Does not come with a travel bag
onlyfire Adjustable Outdoor Camping Rotisserie Grill
The onlyfire Adjustable Outdoor Camping Rotisserie Grill makes our list of the best campfire rotisseries for its stainless steel construction. The grilling mesh beneath the spit is made out of welded steel to last for many years of use. The onlyfire also has four different stop positions to measure how much direct heat that you want on your food. The assembly of this unit is quite easy and you don't need any tools to setup or take down.
Thumb screws on both sides help raise and lower the height of the spit for ease of use. The spit is made out of stainless steel for durability and long life. At 15.39 pounds, this unit can be taken anywhere to set up and have a good roasted meal at your next camping trip.
Pros
Durable construction
Strong welds which will hold up over time
Assembly is a snap and doesn't require tools
Does not come with a travel bag
Cons
Does not come with a travel bag
Rotisserie Grill and Spit Camping Cookware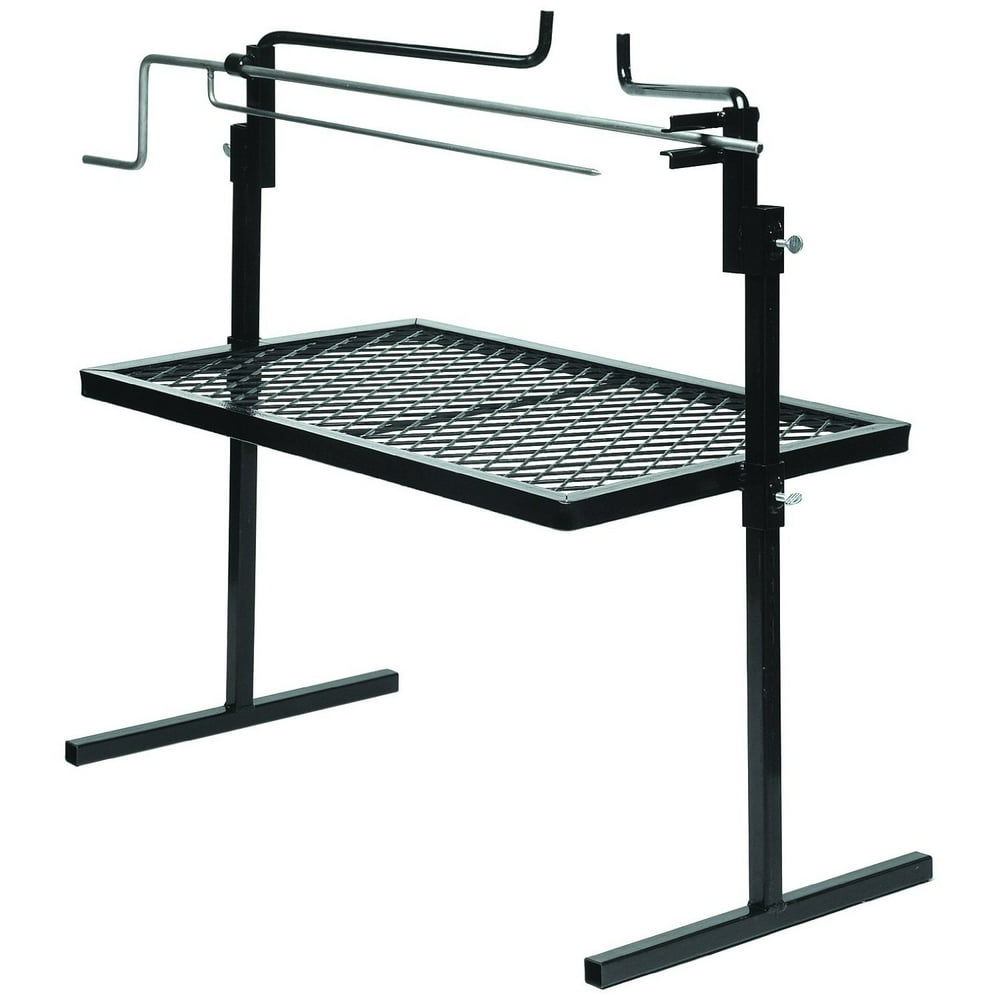 The final entry on our best campfire rotisseries list is the Texsport Rotisserie Grill and Spit. This grill brings quality steel construction mixed in with ease of use. The Nessagro comes with an adjustable stop position to keep your food from cooking too fast or too slow. The spit is made out of durable stainless steel for many years of use under normal conditions.
The unit can be assembled quickly and doesn't require any special tools at all. The grill mesh can be used to cook steaks and hamburgers as the chicken or game can be cooking away above on the spit. The grill can be set up anywhere you choose and should be a big hit at your next campfire get-together!
Pros
Easy assembly
Quality construction
Does not come with a travel bag
Cons
Does not come with a travel bag
Features to Consider for the Best Campfire Rotisserie
Looking for some common features that the best campfire rotisseries have with each other? That's the best place to start when looking for one. You should always compare and contrast and look for a grill that's both durable and economically priced. Anybody can go in and find the cheapest grill out there only to find out that it won't last but a week! You don't need to go through that pain, just find a good grill that you know will last for quite a while.
Some features that you would find in the best campfire rotisseries include the aforementioned durability factor. Find a grill that's made out of high-quality parts and durable construction. Having a grill made out of steel is great, but if the welds are weak, the steel will break at the corners the first time you load it up with a lot of food to cook. Stainless steel is a good material to have in a grill as it's fairly lightweight and extremely durable against use and the elements.
Depending on your personal preference, you can find a grill that has a motorized spit turner on the side. This is great for ease of use as you just set the spit up and walk away as the motor does the rest. Spinning the food at a consistent speed ensures that cooking will occur evenly across the meat. The other plus is the saving of wear and tear on your arm from spinning the spit constantly while the meat cooks.
Having a motorized spit turner can be a double-edged sword, however as most units that have one are housed in an ABS plastic housing which can be worn down over time against high heat.
Benefits of Using Campfire Rotisseries
What are the benefits of using the best campfire rotisseries? The benefits are far-reaching as using a rotisserie for different campfire recipes can bring the family together on camping trips. Kids can all take turns turning the spit every so often which can be an inclusive family event.
You can hold more food on a rotisserie spit grill as you can cook whole chickens and small game on the spit while you grill other meats on the mesh beneath it. Rotisserie cooking also tends to be healthier than pan-frying and baking due to the fact that the fat drips out of the meat while it's spinning over the flames.
Precautions When Using Campfire Rotisseries
As with most cooking apparatuses, there are some precautions in using the best campfire rotisseries. Even on a motorized spit-turning grill over a fire pit, you can't literally just walk away, as you have food cooking over open flames. It's always prudent to practice campfire safety when you build a campfire and have someone keep an eye on the food while it cooks to stamp out any wayward flames or flareups. This can be further prevented by ensuring your firewood has been stored and seasoned correctly by putting it in a firewood stand when not in use and making sure it's dry.
If you're one of the unfortunates who bought a cheap rotisserie made out of cheap parts, you know the dangers of hand-cranking the spit and having it break with a full load of food on it. You've lost the food and you're out not only with the money spent on the food, but also the broken spit and possible campfire grill grate itself. Consider using a campfire tripod in tandem with your rotisserie spit to protect your food if the rotisserie feels unstable.
Conclusion
We've gone through our list to deduce the best campfire rotisseries, and we've learned quite a bit along the way. Always weigh your options and compare grills based on materials used and price. You should always be willing to spend a little more money on a grill that will hold up over time. These grills are going to be subject to periods of high heat, and they need to be able to withstand those temperature extremes as much as marshmallow roasting sticks or other campfire equipment.
The winner for best campfire rotisseries goes to the Grizzly Spit Rotisserie Grill. The Grizzly Spit brings together ease of use with the motorized spit-turning motor and the only one on our list to actually have a travel bag! This makes transporting your grill a breeze and protects the grill from being damaged along the way. This grill is also much cheaper than the other motorized grill on this list, and that's great for the wallet.
Post ID: BrgYgDVZZ
Category ID: A2kKxQR
The responses below are not provided, commissioned, reviewed, approved, or otherwise endorsed by any financial entity or advertiser. It is not the advertiser's responsibility to ensure all posts and/or questions are answered.