The 5 Best Camping Generators
Having the best camping generator in your possession is a must during the summer or for those long weekends that you can spend with your loved ones. When you're on vacation with your family, you don't necessarily want your kids to become uncomfortable. That could cause them to swear off camping altogether. Check out the camping generator reviews and ratings below.
The 5 Top Camping Generators
In this article, you will learn more about some of the top camping generators currently available as well as the considerations that matter most when you are choosing one to buy. Roughing it in nature is an experience worth having, but things don't have to become needlessly miserable. Learn more about the top five best camping generators and why we love them below.
* Ratings are determined using our specialized rating system.
DuroStar 3300 Running Watts Gas Powered Portable Generator
Durostar DS4000S Portable Generator, Yellow/Black
amazon.com
Check price
POWERFUL DUROSTAR ENGINE: The DS4000S is powered by a DuroStar 7 HP 208cc OHV engine with automatic low oil shutoff; Fuel Capacity: 3.96 Gallons; Noise Level: 69dB
PLENTY OF POWER: With 4,000 peak ...
Capacity is not going to be an issue with the DuroStar 3300 Running Watts Gas Powered Portable Generator. It provides 4,000 watts at its peak and 3,300 running watts. That kind of capacity should be enough to power a few appliances such as a mini fridge and even some lights all at the same time. In the event of a blackout, you can also use this generator to power up your home.
Another feature you will likely end up loving on this portable generator is the power panel. The power panel gives you easy access to a couple of household outlets, a twist-lock outlet and a few other useful additions. You won't have to struggle that much with the setup process thanks in part to the power panel.
The manufacturers have included some protective features to prolong the life of this portable generator. The low oil shutoff and surge-arrest features are both intended to protect this machine. The all-metal frame also improves durability. Considering you're getting all of that at a very reasonable price, it's easy to argue that this DuroStar offering is the best camping generator.
Pros
4000-watt peak capacity supports simultaneous operation of numerous appliances
Comes with a convenient power panel included
Low oil shutoff and surge-arrest features protect the generator's internal components
Features an all-metal frame
Runs for about eight hours on a full tank
Getting oil into this machine can be a challenge
Cons
Getting oil into this machine can be a challenge
Westinghouse WGen 7500 Portable Generator with Remote Electric Start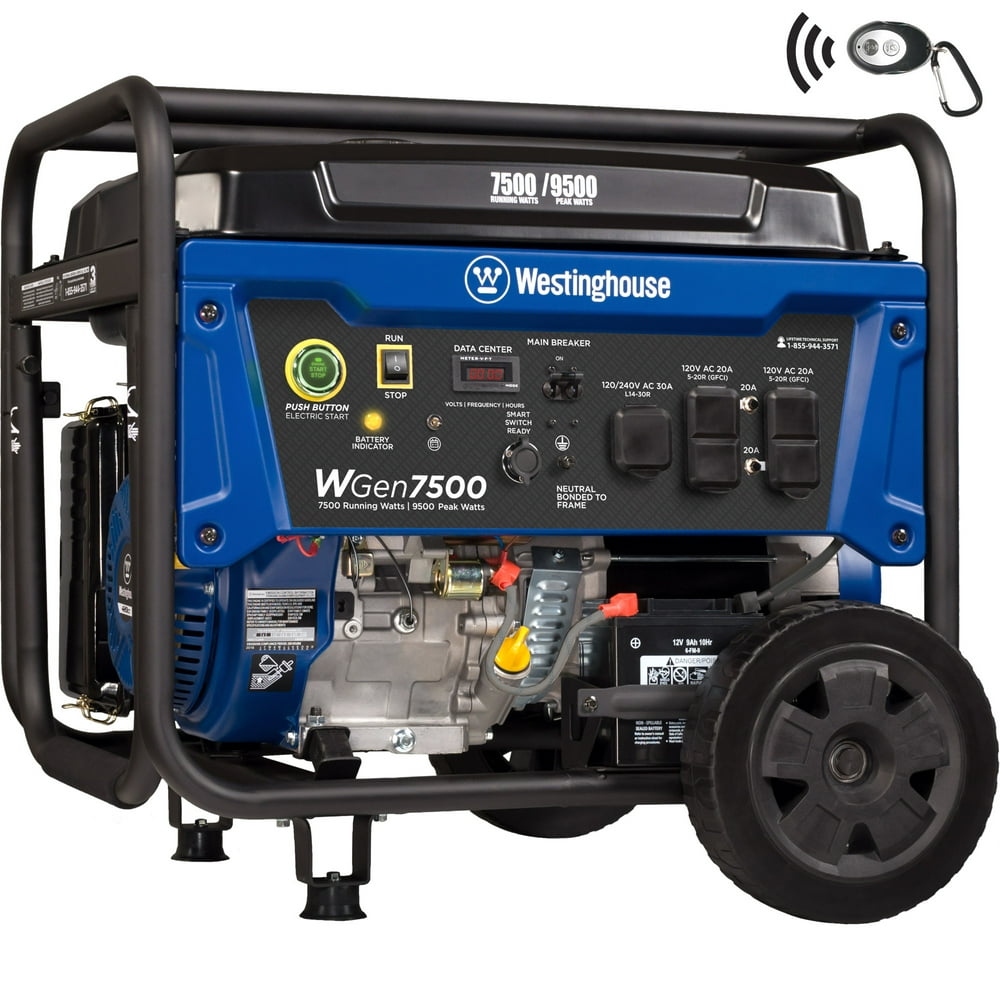 Two qualities separate Westinghouse WGen 7500 Portable Generator with Remote Electric Start from many of the options you'll see on the market today. The first separator is the capacity this generator can offer. It provides 9500 peak watts and 7500 running watts. You simply won't be able to see that kind of capacity offered by many other portable generators. The second feature is that this generator will run for about 16 hours on one tank.
You can easily use this at home as well. On top of the high capacity, this portable generator is also very easy to use. The push button ignition allows you to get this generator up and running quickly. A remote start key fob will also make it possible for you to start this generator even if you're just in the process of heading back to your campsite.
Pros
Peak capacity of 9,500 watts and running capacity of 7,500 watts
Will run for about 16 hours on a full tank
Features push button ignition
Can be used with a remote start key fob
Lacks surge protection
Jackery Portable 167-Watt Lithium Battery Solar Generator
The Jackery Portable 167-Watt Lithium Battery Solar Generator is the better option for campers not planning to bring any vehicles along during their outdoor excursion. Weighing in at less than four pounds, you will have no trouble taking this portable generator wherever you go. The handle makes carrying this generator an even easier task. It's not just the lightweight and portable frame of this generator that you'll love.
This Jackery offering is also a green energy source. When the power supply does run low, you can recharge it using a solar panel. Sadly, the solar panel is not included with this generator so you'll have to pay extra for it. Present on this portable generator are different power outlets. There's an AC outlet, a USB-C port, 2 USB-A ports and 12-volt DC port. You should be able to charge your gadgets with no problem using those ports.
Pros
Portable generator that's easy to bring anywhere
Decent amount of power outlets
Offers a built-in LED flashlight
Very affordable
Power supply drains quickly
Will not be able to power items rated over 100 watts
Cons
Power supply drains quickly
Will not be able to power items rated over 100 watts
Rockpals 250-Watt Portable Lithium Battery Pack Solar Generator
The Rockpals 250-Watt Portable Lithium Battery Pack Solar Generator is lightweight, budget-friendly, and can serve as a green energy source. Instead of being capped at 100 watts, you can use this generator on appliances not rated over 350 watts. The power supply also lasts longer. When it comes time to recharge, you can use the solar panel that's sold separately or make use of other power sources.
You can also recharge this generator by using either a wall outlet or the charging socket in your car. You won't have to spring for a solar panel just so you can use this portable generator multiple times. The one significant downside to this portable generator is that there will be times when you won't be able to use it. You cannot use it to charge a device of yours if it is also in the process of being charged.
Pros
Very easy to carry
Budget-friendly generator
Can be charged in a variety of ways
Offers decent capacity for a compact generator
Generator cannot be used if it is being charged
Cons
Generator cannot be used if it is being charged
Generac 2200 Watt Portable Inverter Generator
Generac 7117 Gp2200I W 50St Inverter, Orange
amazon.com
Check price
Quiet, Compact, Easy to use. AC rated output running Watts: 1700, AC maximum output starting Watts: 2200. Rated 120 VAC Amperage-14.1
Truepower technology provides clean, stable power ideal for sen...
The real standout feature of the Generac 2200 Watt Portable Inverter Generator is its ability to work alongside another inverter generator. You can connect it with another Generac inverter generator and instantly double its power output. It can go from offering 2200 starting watts and 1700 running watts to double those amounts. That should be enough to power up all kinds of appliances and devices.
Setting up the parallel generators is not easy so take the time to study the instructions carefully. The additional inverter generator is not included in the original package though. You will have to pay extra if you want that. Even on its own, this is a well-performing portable generator. It can remain in service for nearly 11 hours if it starts with a full tank.
Pros
Capable of working parallel with another Generac inverter generator
Runs for nearly 11 hours on a full tank
Economy mode allows the generator to conserve less fuel and produce a lower noise level
Tends to leak a bit of oil
Cons
Tends to leak a bit of oil
Features to Consider for the Best Camping Generator
Finding the best camping generator can be a difficult endeavor if you don't know which factors matter most. This section of the article is devoted to helping you better understand those factors so that you can make a smarter purchase.
Wattage Capacity
If the piece of equipment you're looking to purchase doesn't even feature the wattage you need to support the electronics and appliances you're bringing along, then there's no way you can consider at as the best camping generator.
But how much wattage do you need?
The amount will obviously vary depending on what you're taking with you, but if you want a better idea of the wattage capacity you will require, Consumer Reports provides the ratings from some frequently used items. Lights can consume anywhere from 60 to 600 watts while a portable heater tops out at around 1500 watts. Gadgets such as your smartphone and your camera do not require that much power at all. If you want a generator to power your electric grill or mini fridge so you don't have to rely on camping coolers, you need to make sure you know how many watts the devices use.
The capacity of the portable generator will matter more if you're traveling with others. The heavier generators that have to be transported using vehicles are the better options in those cases. Folks traveling alone will be able to get by using the more compact generators.
Fuel Tank Capacity
It's not just the wattage capacity that you have to be mindful of while you're looking for the best camping generator. The capacity of the fuel tank is also going to affect how useful a generator ultimately is. The capacity of the generator's fuel tank is even more essential if you are planning to go on an extended camping, hiking, or mountaineering trip. You don't want to cut your camping trip short just because your generator is running out of juice and you haven't set up your campsite correctly to work with a generator.
Finding propane or gas-powered generators equipped with fuel tanks that can keep them running for over 10 hours is not that hard. Seek those out if you want to make sure nothing interrupts your family's outdoor vacation.
Fuel Type
Notably, you don't have to use gas or propane-powered generators. Alternatives to them that are usually equipped with lithium battery packs are now available. So, should you choose the generators that make use of gasoline and propane or will you be better off with the lithium-powered options? The key here is to evaluate how much energy you need to have a great camping trip.
The gas or propane-fueled generators are heavier and have to be transported using vehicles, but the upside to them is that they can supply you and your companions with ample amounts of energy. In contrast, the lithium-powered generators have less energy to offer, but they make up for that by being compact. There is no right or wrong option among them. You just have to go with the choice that will fit your needs best.
Benefits of Using Camping Generators
We all like to assume that we are fully capable of handling everything the outdoors can throw at us. It doesn't matter how cold or how isolated you may feel from civilization, you will be able to make it through.
Seasoned campers have developed a pretty good tolerance for the harsh outdoor environments and roughing it should not prove to be an issue for them. The same cannot be said for newer campers, especially when you're camping with kids. Having a generator can make camping more comfortable. And if you're glamping on your own with a camping chair or heavy-duty camping chair, as well as a camping cot, a generator is a must for ultimate comfort.
One of the main reasons why you should consider buying a camping generator is because it can make things pleasant for everyone during the trip. Getting acclimated to an outdoor environment is easier if you have some elements from home helping you out.
If the weather takes a turn for the worse while you're out camping, a camping generator will enable you to generate enough power by making certain appliances usable—like an air conditioner or cell phone. Plus, a camping generator can come in very handy in the event of power outages at home.
Size
The generators that last a long time can get big and heavy, which makes them difficult to transport. If you're going car camping, a big generator is manageable. But if you're on your own, you will want something that fits easily in your bag. You can even place small portability oriented generators on your camping table or other camping furniture so they don't get lost.
Precautions When Using Camping Generators
Camping generators are generally very safe, but it won't hurt to exercise some additional caution when using them.
Check if the generator can work in wet environments and is rv ready. Only those generators that are waterproof or are equipped with ground fault circuit interrupt outlets can be safely used even as they are exposed to some rain. Look for low oil shutoff and surge-protecting features on the generator. They will keep the rv generator in working condition longer.
Avoid running a gas or propane-fueled generator inside an enclosed space. They produce carbon dioxide that can be very harmful to your health. Run the generator at home first and see if you can withstand the amount of noise it makes. You don't want to lose sleep because you failed to do this. Don't rely solely on your generator. Make sure you have an emergency kit just in case the generator goes out or something happens and you can't get it working.
Some camping generators are also loud, and we need to be careful to prevent hearing damage. Noise level varies from generator to generator, so check the decibels output before purchasing.
Conclusion
In my book, the best camping generator is one that is able to support the energy consumption needs of a small family so I lean towards the gas and/or propane-powered models. The one I ultimately chose as my favorite is the DuroStar 3300 Running Watts Gas Powered Portable Generator. This generator has the fuel and wattage capacity to meet everyone's needs and it even has a good amount of outlets available. I also want to highlight how durable DuroStar's generator is again. You can bank on it remaining in great condition for many years.
Post ID: 4E9o9R7we
Category ID: 1O6DxQR
The responses below are not provided, commissioned, reviewed, approved, or otherwise endorsed by any financial entity or advertiser. It is not the advertiser's responsibility to ensure all posts and/or questions are answered.