If you want a reliable coffee maker that you can use at home and while camping, you need the best electric percolator. The process of percolating just means that something is passing through a porous object—in this case, water through coffee grounds. Electric percolators continuously cycle the hot water through the coffee grounds instead of just dripping through once, brewing strong coffee that is perfect for the beginning of your day. If this sounds like your kind of coffee, check out our electric percolator reviews and ratings below.
The 5 Top Electric Percolator Reviews
* Ratings are determined using our specialized rating system.
Everyone thinks they have the best percolator on the market, but that just isn't true. You can end up spending a lot of money on a percolator that breaks after a week, and these kind of risks keep buyers from wanting to buy online. Because of that, we've taken it upon ourselves to find the best electric percolators for you. Keep reading for our picks for the top five best electric percolators.
Maxi-Matic EC-120 12-Cup Electric Percolator in Stainless Steel
The Maxi-Matic EC-120 12-Cup Electric Percolator in Stainless Steel brews both coffee and tea. It boasts an easy-to-maintain stainless steel finish, a transparent knob so you can check on the progress of your brew, and a protective handle cover to prevent burns. Both the body of the percolator and the inner filter are stainless steel, which is easy to maintain and won't rust and corrode like many other metals.
The tall, sleek design and curved spout hearken back to a different era of tea kettles, but the modern twist on a classic design could go great in your kitchen. It also features 360° cord storage under the coffee pot's base, so it won't get tangled up or caught on anything in your cabinets. The entire kettle is detachable, so you can take the coffee to the coffee drinkers instead of vice versa.
Pros
Automatic warming feature
Cord storage
Separate power and ready lights
Must be unplugged to turn off
Cons
Must be unplugged to turn off
Eruo Cuisine 4-Cup Electric Percolator in Red Stainless Steel
The Eruo Cuisine 4-Cup Electric Percolator in Red Stainless Steel is the best electric percolator because it looks like a piece of art. The exterior is copper finished stainless steel, giving it the beautiful copper color without the maintenance of copper. The clear glass knob at the top gives you a clear view of your brew inside, and the "keep warm" function means you don't have to struggle of going from boiling hot with your first cup to lukewarm with your second. The Euro Cuisine will keep your coffee or tea warm without growing bitter, which frequently happens with traditional coffee pots.
The removable electric cord gives you a totally mobile electric coffee pot, though it does need to be plugged in to use the "keep warm" function. It's also available in three different sizes (4 cups, 8 cups, and 12 cups), so you can customize it to your camping kitchen's caffeine needs!
Pros
Glass knob instead of plastic
Three size options
Dishwasher safe
Cord is only two feet long
Cons
Cord is only two feet long
Presto 6-Cup Electric Coffee Percolator in Stainless Steel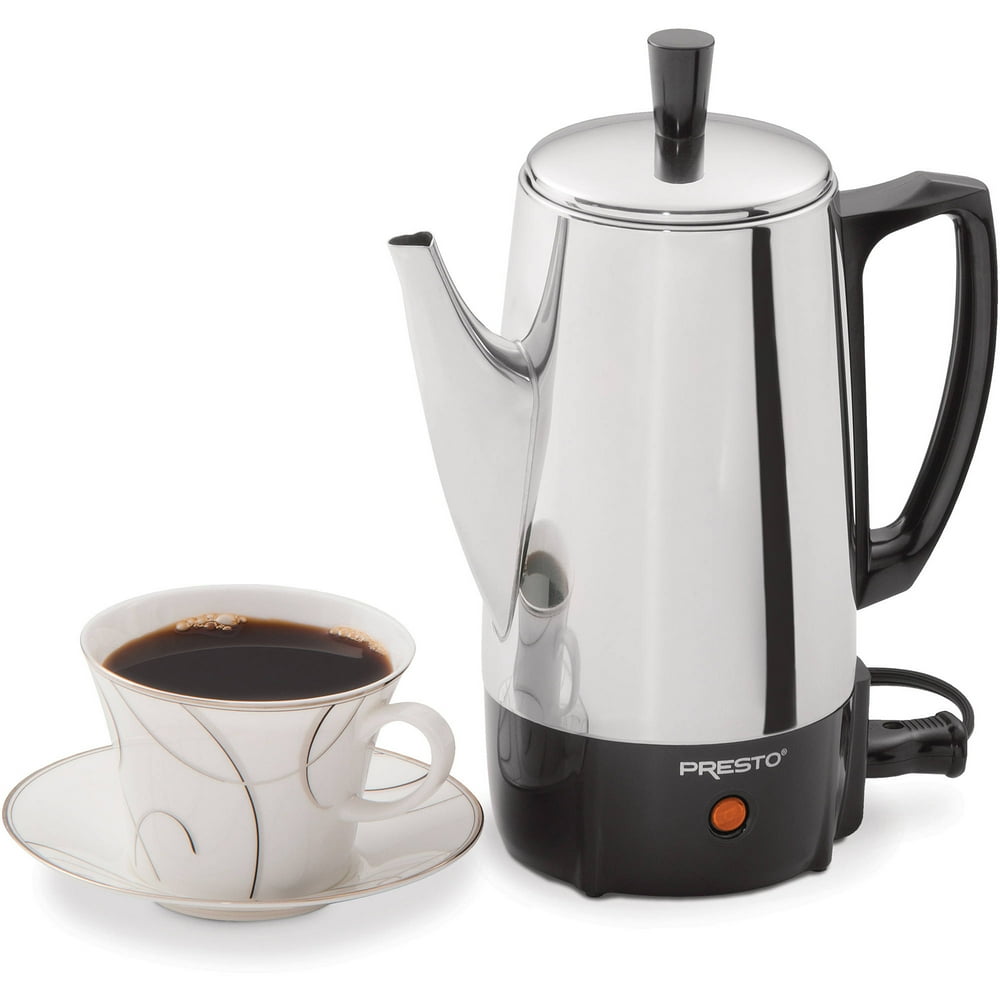 If you're looking for the best percolator for a bargain, the Presto 6-Cup Electric Coffee Percolator in Stainless Steel is for you. This coffee percolator has a stainless steel exterior and stainless steel interior carafe and comes in 6-cup and 12-cup options. This coffee percolator has an automatic keep warm function, so your coffee will be ready whenever you are.
This electric percolator is very classic in its design for both the 6-cup and 12-cup options, so it should fit well aesthetically in most kitchens. With its detachable cord and ready-to-serve indicator light, you can make your morning cup (or cups) of Joe easy and efficient whether you prefer to go grab a cup or have coffee ready to serve at the table.
Pros
One-year limited warranty
No plastic touches the heated water
Affordable stainless steel
Aluminum nut at bottom of carafe may corrode
Cord is only two feet
Cons
Aluminum nut at bottom of carafe may corrode
Cord is only two feet
Hamilton Beach 40614 12-Cup Electric Percolator in Stainless Steel
The Hamilton Beach 40614 12-Cup Electric Percolator in Stainless Steel is an affordable option for campers on a budget. The glass twist-off lid ensures that you won't have any surprise coffee volcanoes, and you can keep track of how much water to coffee is left via the viewing window. You can also just use it to heat up hot water for tea, instant cider, or hot chocolate.
This electric coffee pot has a detachable cord feature, so it can be conveniently placed anywhere once brewed. The stainless steel basket can go in the dishwasher for a quick cleanup, rounding off your morning routine with an easy finish.
Pros
Detachable cord
"Keep Warm" option
Dishwasher safe
Inside body is not stainless
Cons
Inside body is not stainless
Hamilton Beach 40616 12-Cup Electric Percolator in Stainless Steel
The Hamilton Beach 40616 12-Cup Electric Percolator in Stainless Steel is a lightweight kettle that can make up to 12 cups of coffee at once. This electric percolator boasts less than a minute per cup to brew, making it one of the faster coffee percolators electric available and considerably faster than the standard percolators of decades past. If speed and quantity are your main priorities, this may be the one for you!
Though not quite as sleek as some of the other options, it's got some serious specs: detachable cord, cool touch handle, and "keep warm" setting on top of getting 12 fresh brewed cups of coffee in about ten minutes. It also has measurement marks on the inside of the kettle, making it easy to fill it enough for the number of cups you want.
Pros
Takes one minute per cup to brew
Detachable cord
"Keep warm" setting
Plastic inner parts
Features to Consider for the Best Electric Percolator
The internet brings us endless options of just about everything, and electric percolators are no different—as you can clearly see from our electric percolator reviews. If you're still not sure which electric coffee pot is for you, here are some individual features to consider when looking through the options.
Cord Type
There's nothing inherently wrong with a traditional attached cord, but you are limited by the length of it. Depending on your kitchen outlets to appliances ratio, you may need to do a bit of countertop jigsaw to make room. However, if your percolator has built-in cord storage, your coffee can still be mobile once it's done brewing. While it could technically still be mobile without cord storage, it could be a bit of a hassle and a snag hazard.
Detachable cords offer the benefits of built-in cord storage (like mobility and storage ease) without having to take the time and wrap up a cord when dealing with a hot pot of coffee. Just unplug the cord from the percolator, and you're good to go! It's no wonder why so many of the best electric coffee percolators feature them.
Capacity
Possibly the most important element of choosing the best electric coffee percolator is how much coffee you need and how much coffee the electric percolator can hold. If you're a light coffee drinker brewing for only yourself, a 4-cup percolator is perfect. If you live in a household of caffeine fiends, even the 12-cup may be stretching it! But try not to fall in love with one style before accounting for the number of cups it offers. Nobody deserves that kind of coffee heartbreak.
You also have to keep in mind that a "cup" of coffee according to manufacturer is different from a cup in standard US measurements, which is also probably quite different from your cup at home. Each "cup" on a coffee pot is usually 5oz, a standard US cup measurement is 8oz, and your coffee cup at home could be anywhere from 8oz to 12oz. Remember that if you're on the fence between two sizes. Especially since electric percolators take longer than drip coffee, you may not want to wait around for another pot!
Materials
While most modern electric percolators are stainless steel nowadays, a shiny exterior doesn't necessarily mean that the entire thing is stainless steel. If you're worried about rust or concerned about plastic near your boiling water, check out the entire specs for aluminum, plastic, rubber, or silicone before you make a purchase. Stainless steel is machine washable, so the convenience of a stainless steel filter that can be tossed in the washer is also tempting! For many, this is required to be the best electric coffee percolator.
Indicators
Beyond making you a good pot of coffee, most other indicators and features are just bells and whistles. That doesn't mean they can't be very nice bells and whistles to have on the best electric coffee percolator! Some percolators turn on when you plug them in and off when you unplug them while others have dedicated on/off switches.
In a similar vein, some coffee percolators will keep the coffee roiling hot while others have a "keep warm" feature that will prevent your coffee from burning and prevent you from having to reheat. These options largely come down to personal preference and the budget you have set for your new coffee maker, since generally more features means higher price.
Benefits of Using Electric Percolators
For many people, a coffee maker is a coffee maker. But if you've read through our electric coffee percolator reviews or have used a percolator in the past, you know there's something special about them that you can't get from a travel French press. Here are some of the benefits you may see from using the best electric percolator.
Strong and Hot
The main advantage of percolators is that it brews strong and hot. It may not have the prestige of a pour-over coffee maker or camping espresso maker, but it makes a solid cup of strong, very hot coffee. While you want to be careful to not burn yourself, it's great if you add milk or cold creamer to your morning cup since it will bring it down to the perfect temperature.
Entertaining Large Groups
One of the nice thing with the best electric percolators is the quantity of coffee they make at once. While French press and espresso machines are more limited, a large percolator will give you enough coffee to satisfy a dinner party or guests. An electric percolator will get you set up with a large amount of piping hot coffee that you can take from one room to the next. It's convenient for guests, and convenient for you to take to your bedroom with a book on lazy Saturday mornings.
Electric Percolators Can Be Used Almost Anywhere
The best electric percolators are extremely versatile, and they can be used while RV camping or at home on your average morning. While traditional camping coffee percolators are handy for camping, you aren't always going to have access to an open fire. Electric percolators are perfect for using in an office, at home, or anywhere else that you have access to an outlet.
Precautions of Using Electric Percolators
While you may not think that a camping coffee maker should require precautions, there are a few things to keep in mind. Here are a few things you should remember when brewing your next cup of coffee.
Electric Percolators Brew Hot
On average, electric percolators brew hotter than the more common drip coffee or single service machines of today. It's not unusual for a percolator to brew coffee to 200° Fahrenheit, so be very cautious while pouring, especially if you're transitioning from single serve cups or drip coffee.
You May Need a Coarser Grind
While you can use paper coffee filters in electric percolators, generally the internal reusable metal filter can be used alone (which is also great if you're trying to reduce waste). However, many extremely fine grind coffees available at the store are made for drip machines. The best electric coffee percolators work better with larger or more coarsely ground coffee, or coffee grinds may be more likely to end up in your cup. If you're having this problem, try grinding the coffee for less time (if you have the option) or adding paper filters should fix the issue.
Interior Materials
Keep in mind that a stainless steel exterior doesn't inherently mean a stainless steel interior. Other metals (like aluminum) may rust in the presence of moisture, and some people try to avoid plastic that is continuously heated up with drinking water. If these are a concern, make sure to pay attention to all of the materials in the specs, not just the exterior.
Electricity is Required
While obvious, it should still be pointed out that electric percolators need electricity in order to be used. While this is fine if you go RV camping, it won't be as easily used while tent camping. If you're a big fan of tent camping, you may want to try a battery-operated coffee maker instead.
Conclusion
After getting to look at so many great products for these electric percolator reviews, we've determined that the Maxi-Matic EC-120 12-Cup Electric Percolator in Stainless Steel is the best electric percolator. It's an elegant, classic looking electric percolator that brews twelve cups of strong brew at a time. The 360° swivel base is perfect for cordless serving, and the separate "on/off" and "coffee ready" indicator lights mean you never have to play chicken with your coffee in the morning. The automatic "keep warm" function means you're at little risk of burning your coffee if you don't immediately unplug, and the stainless steel interior is easy to clean and made to last.
Whether you're eyeing an electric percolator for the nostalgia, the ease, or the hot brew, I wish you only the best morning cup of Joe!
Post ID: M1bqbZpd5
Category ID: KX7k9p1
The responses below are not provided, commissioned, reviewed, approved, or otherwise endorsed by any financial entity or advertiser. It is not the advertiser's responsibility to ensure all posts and/or questions are answered.