Deliciously Roasted Marshmallows, A Camper's Favorite
Marshmallows are a delicious treat. It is my number one favorite thing to have  with baked sweet potatoes or hot chocolate. During eastern I also love having them when they are shaped into peeps. Marshmallow are one of the most popular items to cook while camping. It's good to point out that these yummy white puffs aren't very nutritious however. Marshmallow ingredients are usually made up of just sugar, gelatin, and corn syrup (another fancy name for sugar). Marshmallow calories can add up quickly if you eat more than a one serving. But if you're out already in the woods camping and being active, there is no logical reason why not to enjoy a few of these delicious s'mores roasted. If you haven't tried them, you'll thank me later. Just make sure that you have the proper tools and roasting sticks to cook them.
The 5 Best Marshmallow Roasting Sticks
If you're going camping and don't want to end up using a dirty stick to roast your marshmallows, you should buy a set of the best marshmallow sticks to get the job done properly. Nothing beats the feeling of sitting around the campfire in a heavy-duty camping chair with your friends or family and roasting marshmallows. Marshmallows and s'mores are a camping staple that just can't be replaced.
The 5 Top Marshmallow Roasting Sticks
If you can't tell, roasting marshmallows over the campfire is one of my favorite parts of camping. Roasted marshmallows are one of those foods that can only be good in context. For example, homemade roasted marshmallows just don't have the same taste as those that are enjoyed in the wilderness! To get the best results possible, you'll need a proper skewer for roasting your marshmallows and a roaring fire in a fire pit or over a camping grill. If you're looking for the best marshmallow roasting sticks, keep reading for marshmallow stick reviews and ratings!
* Ratings are determined using our specialized rating system.
Aoocan Marshmallow Roasting Sticks, Smores Sticks for Fire Pit
The Aoocan Marshmallow Roasting Sticks, Smores Sticks for Fire Pit are definitely my favorite sticks of all-time. They give you plenty of grip and accessibility. You also get great value for what you pay, as the kit itself comes with eight telescoping hot dog forks, five roasting sticks, and two corn forks. This allows you to have ultimate flexibility when choosing how you roast your food.
You aren't bound to just marshmallows, and you can roast many different types of camping food with each form of stick. These s'more sticks are also made of high-quality FDA approved non-toxic stainless steel, so they're incredibly durable and will last for a long time.
Pros
Made of FDA-approved stainless steel
Comes with 15 sticks
Color-coded so the sticks don't get mixed up
Affordable price
Not all 15 sticks are intended for marshmallows
Cons
Not all 15 sticks are intended for marshmallows
Pogah Campfire Roasting/BBQ/Barbecue Sticks Set
The Pogah Campfire Roasting/BBQ/Barbecue Sticks Set come with their own carrying bag and are made out of wonderful food-grade stainless steel. If you're somebody who only needs a few s'mores sticks and doesn't mind paying a premium price for ones that look great, I recommend this product.
On top of this, they have long prongs that are also able to easily grip any type of food you might want to roast. However, what truly makes these sticks stand out from the rest is the wonderful, rustic look that they have. The grips are also very comfortable for long roasting sessions!
Pros
Comes with carrying bag
Made of food-grade stainless steel
Long prongs
Work for any type of food
Rustic, comfortable grips
Only comes with 5 roasting sticks
No telescoping handles
Cons
Only comes with 5 roasting sticks
No telescoping handles
Briout Marshmallow Roasting Sticks 10 Pack Extra Long 45 Inch Skewers
Though the Briout Marshmallow Roasting Sticks might not be the cheapest item on my list, the reason why I'm including them as my budget pick is because they are the best value for your money. Not only does this set come with 10 sticks (the most of any pack on this list), but they are among the best marshmallow roasting sticks you can find. 
The best part about these roasting sticks is that they come with insanely comfortable grips that are accommodating for a wide variety of hands. They also have a adjustable lengths of up to 45″ so you can stay a truly safe distance away from the fire! This makes these s'mores sticks incredibly safe as well and perfect to use with the whole family. Once you're done with them, you can simply retract the length and easily store them.
Pros
Very affordable price
Comes with 10 roasting sticks
Length of up to 45″
Retractable length
Comfortable grip
Only comes with one type of roasting stick
Cons
Only comes with one type of roasting stick
Odyseaco Premium Marshmallow Roasting Sticks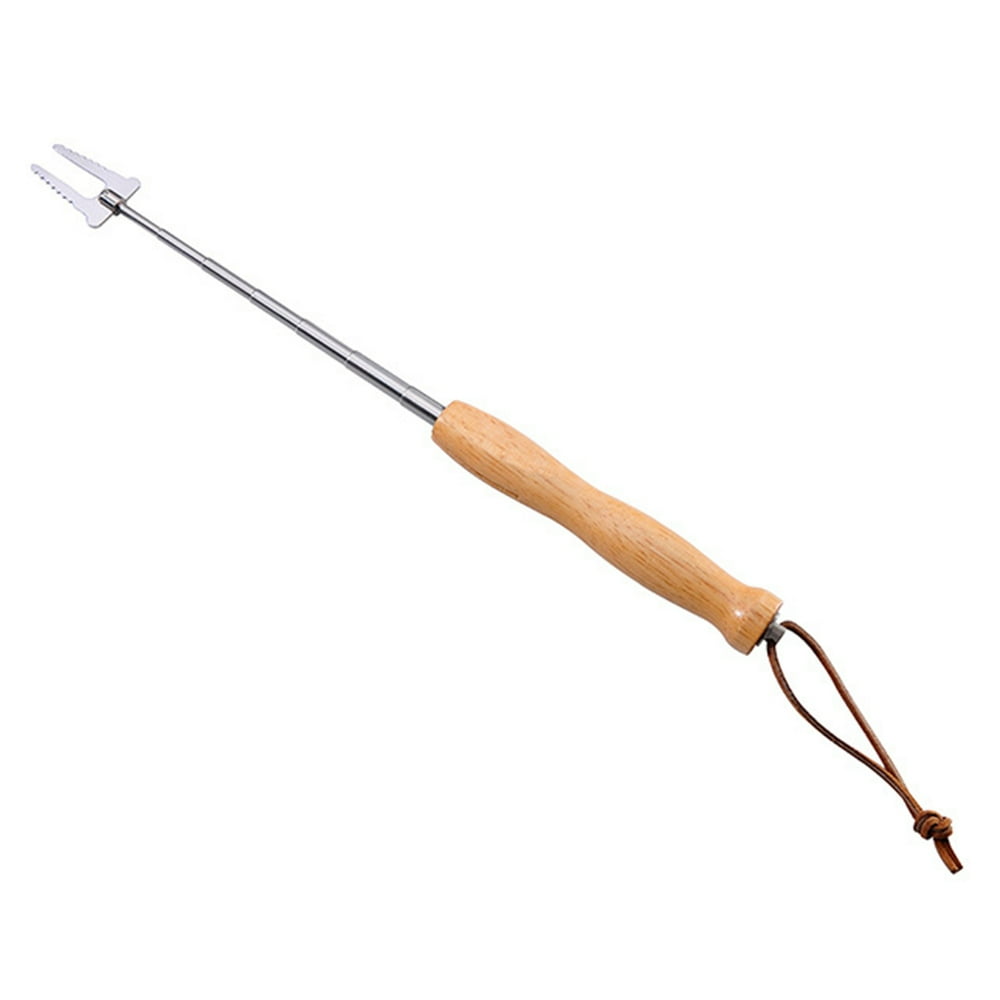 The Odyseaco Premium Marshmallow Roasting Sticks come in a set of four sticks and are made from high-quality materials. If you're somebody who wants to just have a nice camping trip for you and three other adult friends, these roasting sticks will allow you to roast marshmallows in style!
As the most expensive item on this list, these sticks give you great flexibility, whether it be the comfy beech wood grip or the stainless steel sticks. They also come with wrist straps on the off-chance that you drop your stick while roasting. You are paying a lot of money (as far as roasting sticks are concerned) for only four s'mores sticks, but they're a great splurge item!
Pros
Comfy beech wood grip
Durable stainless steel sticks
Wrist straps
100% satisfaction guarantee
Only comes with four sticks
Cons
Only comes with four sticks
S'More to Love Roasting Reel Marshmallow Skewer
S'More to Love Roasting Reel
amazon.com
Check price
The Reel Rotates The Fork For Consistent Roasting
Fork Extends From 8" To 20"
Fork Is Removable And Dishwasher Safe
No Assembly Required
The S'More to Love Roasting Reel is unlike any other marshmallow roasting stick on the market. If you're truly on a budget and just need something for yourself, this is the product for you. As a roasting reel, it operates like a fishing rod. You have the grip that you hold, but there is also a reel that you can turn to turn around the fork. This is a great feature because you can roast your marshmallows with balance and achieve that coveted "golden brown" status associated with expert marshmallow roasters. 
The fork also is removable and is dishwasher safe! I think this product is incredibly convenient, but you are paying a lot of money for just one product. However, if you're just looking for something to use on a solo camping trip, you can't really go wrong with this!
Pros
Rotating fork
Good for a solo trip
Fork is dishwasher safe
Sold individually
Important Marshmallow Roasting Stick Features to Consider
When looking for the best marshmallow roasting sticks, the most important thing you'll want to consider is the design of the handle. This is often the difference between a roasting stick being comfortable or not, so you're better off paying attention to it. You also want to pay attention to the materials the stick is made of and decide according to your personal preference! You should also make sure that the sticks themselves are sufficiently long for your preference so you don't accidentally injure yourself while roasting marshmallows or cause a forest fire.
Price will also play a factor for many people, though it's worth noting that even the best products don't cost a lot of money. If you want to get your money's worth, I recommend also getting models that come with multiple different handles to try out. Though you should only be using the long handles with marshmallows, in the event that you use your roasting sticks for other types of food you'll have options.
What are the Advantages of Marshmallow Roasting Sticks?
There are a lot of different reasons to buy your own roasting sticks and bring them on your next camping trip. Marshmallow roasting sticks are usually quite affordable and come in packs with enough sticks to outfit the whole family. They're also durable, so you can use them for trips to come unless they get lost or irreparably broken. They're also great for roasting foods other than marshmallows—I'm a big fan of roasting hot dogs with mine.
And for the most important advantage: you don't have to worry about getting wood in your marshmallow. When I was a kid, me and my siblings always just used sticks off the ground, and without fail, there would always be bits of wood stuck in my marshmallows. I can't imagine going back to using random sticks after owning my own metal roasting sticks. The same goes with our campfire rotisseries!
What's the Best Way to Use Marshmallow Roasting Sticks?
Out of all of the camping tools you'll purchase, marshmallow roasting sticks are likely the most self-explanatory. To use your sticks, all you have to do is put a marshmallow on it and put it next to a fire you've started with a fire starter. Once you're done roasting your marshmallow, you need to carefully remove it from the stick without touching the stick itself. It should be noted that children should use these products only under adult supervision, as they can be a hazard if not carefully monitored. Additionally, be sure to practice basic campfire safety to minimize danger in your campsite, such as storing your firewood stand a safe distance from the fire and taking appropriate steps when gathering and storing firewood.
And keep in mind, though these sticks are typically used for roasting your s'mores, they can actually be used to roast anything from a hot dog to a skewer to anything that can be roasted over a fire built with a fire starter or camping wood stove. This is why many people use these roasters as well on campfire grill grates or campfire tripods to handle meat that is being cooked!
Conclusion
When compared to the other options on the market, I think the Donsino Marshmallow Roasting Sticks Telescoping S'mores Skewers are definitely the best marshmallow roasting sticks available. I say this because of how truly intuitive and versatile these roasting sticks are. Not only are they made of FDA-approved non-toxic stainless steel, but they also come with various types of roasters so you can choose which one you use based on personal preference.
Ultimately, the best option for you will be the one that feels most comfortable. I can give you my opinions on which ones are best, but you need to make a decision about which one is best for your budget and needs. I have tried to give you an overall picture of the top options in the market and included only those I see were offered by reputable brands that are durable, and of course dish-washer safe. I hope that my list of top picks for cooking your s'mores has been helpful so that the next time you go camping, you're prepared to make some delicious s'mores. Happy Roasting!
Post ID: ZgKvKrYDK
Category ID: QM3G5rk
The responses below are not provided, commissioned, reviewed, approved, or otherwise endorsed by any financial entity or advertiser. It is not the advertiser's responsibility to ensure all posts and/or questions are answered.