It's frustrating to be woken up by sunlight at dawn, especially if you've been camping and had a few beers the previous night. So, what's the answer to this unfortunate experience? It's choosing from the best blackout tents for camping.
The best blackout tents come in handy for creating the perfect, wild camping experience. A blackout tent is a specially designed tent that serves to prevent sunlight from entering a tent during a camping adventure. They have a unique fabric that blocks sunlight off and keeps a dark interior space. Keep reading to learn more!
Is It Worth Investing in Blackout Tents? 
Yes. Blackout tents can help you achieve more than regular tents. For instance, you don't have to worry about interrupted sleep due to morning light. You can also enjoy your sleep in a much cooler environment inside the tent throughout the day. 
The dark technology also keeps the interior warmer during cold nights. So, whether you're camping in the desert or deep in the forest, blackout camping tents offer the best experience. 
Top 10 Blackout Tents That Will Give You The Best Sleeping Experience During Your Outdoor Adventure
Coleman Oak Canyon 4-Person Tent 
The Coleman Oak Canyon 4-Person blackout tent offers a spacious living area, enough to accommodate a family of four with young kids. This blackout tent 4-person option's first section can work as a living room big enough to fit a few camping chairs or serve as an extra bedroom. Further down, the bedroom can allow you to sleep with minimal interruptions. 
The ability to roll its window open to view inside the second section or remove it altogether makes this the ultimate choice for your camping experience. Its blackout fabric blocks up to 99% of the natural light and offers excellent climate control, keeping the bedroom cooler during the day and warmer in the evening. Its blackout fabric can keep the interior five degrees cooler during the day and two degrees warmer during the night.
If you're wondering about its stability, its fiberglass and steel pole structure offers a stable shelter that can hold up well against strong winds. The inclusion of a 4500mm HH flysheet also guarantees protection from downpours. On top of that, its setup is easy enough to complete without needing extra help. 
Pros
Easy to pitch
Spacious porch area for relaxation
Waterproof
Sewn-ground groundsheet
Weathertech system 
Cons
It can be a bit expensive for budget-friendly campers
It has a small carry bag
Coleman Dark Room Skydome Tent
This is another Coleman blackout tent worth your attention. Campers can choose between 4-, 6-, and even 8-person options. Thanks to Darkroom technology, this tent offers complete darkness inside, even on the brightest day. Therefore, you're guaranteed a cooler interior, even in direct sunlight, and warmth in the cold compared with an average tent. 
Its fiberglass poles are pre-attached, making the setup easy. These poles can withstand strong forces without making too much noise. The tent has a flysheet that is 100% waterproof along with welded corners and inverted seams to keep the inside as dry as possible. 
Pros
Offers various options based on the number of campers
Easy to set up
It offers more headroom with its dome-shaped headroom
It comes with pre-attached fiberglass poles
Cons
Can only block 90% of sunlight 
Coleman Sundome Tent
This is a great blackout tent option for a group of four campers. It also utilizes Coleman's Darkroom technology to significantly reduce the light it lets inside. However, parts of the tent's fabric don't have the blackout feature, allowing some light to penetrate. 
Its flysheet offers good protection from wetness thanks to its Weathertech system and patented seams that keep water out entirely. Its frame is also quite sturdy and can withstand wind moving as fast as 35mph. One of the features that set up this tent for the rest is the e-port. This is a feature that offers an easy electrical cord AC port. 
Pros
Easy to assemble
Relatively lightweight than other options
Resilience in strong winds
Cooling effects for hot environments 
Cons
No groundsheet
Not fully seemed 
Coleman Octagon Blackout Tent 
This versatile blackout tent has two doors on either side, split by a toggled divider that ensures that campers don't bump into each other at the entrance. Its fully-integrated groundsheet sets it apart from other options. It is also 100% waterproof. The flysheet is made of 200mm HH fabric, ensuring no water molecules get into the tent, even in the wettest condition. 
The Coleman Octagon Blackout tent also has seven large windows that enhance ventilation and a 360-degree view of the surroundings. Finally, its poles are steel-made and suitable for standing their ground during windy times. 
Pros
It comes with a sturdy steel pole structure
 Offers adequate ventilation
Waterproof
360-degree view of the surrounding area
Cons
Heavy weight: It weighs about 11kgs, which is quite heavy for a camping tent
Coleman Cabin Tent 
This is another Coleman blackout tent worth your attention. The blackout cabin tent incorporates most of the features available in Coleman blackout tents, such as Darkroom, which can block up to 90% of sunlight. 
Its structure is also easy to set up, making it a suitable option for any camper. You can set up the camp within one minute, despite its huge size. 
Pros
Can accommodate up to ten campers
It offers a room divider
Stays cool during hot temperatures
Instant setup
Whisks water away quickly 
Cons
It can be a little bit expensive
Coleman Batur 3 Blackout Tent 
This is one of the best blackout tents for backpacking. It's lightweight and compact, making it easy to transport and set up. It's a 4-season camper, so you can use it anytime. It also contains blackout bedroom technology that can block up to 99% sunlight. 
This Coleman blackout tent accommodates two or three people. The black material on top keeps the tent's temperature 5 degrees cooler. Its two open sides allow a full breeze to blow through to guarantee comfort during hot days.
This tent is a two-pole system for simplicity and ease of use. Its impressive 5000 mm hydrostatic head rating and wedge style make it one of the best camping tents for wet conditions. 
Pros
It weighs 3
3 kg, making it an ideal backpack tent
Extreme waterproof characteristics
The best shape for deflecting wind and rain 
Cons
It doesn't offer too much headroom 
Ayama Popup Tent 
The Ayama Popup tent is one of the best camping blackout tents outside the Coleman brand. It's super spacious and can accommodate up to six adults. It also comes with a separate room that offers an excellent spot for extra camping gear or your dog. It also comes with electrical cord access that allows easy access to electricity outside your tent. 
Hooks connect the inner and outer layers. Campers can adjust these layers to create vents and create additional warm light and ventilation. It also comes with two doors on either side to let fresh air in. 
Pros
Can accommodate up to six adults
It offers amazing air circulation
 It comes with two huge doors
 Unique double layers 
Cons
Heavier than other models 
Quechua 2 Second Fresh and Black Tent 
This is one of the best pop-up tents in the market. It's an instant pitch two-person tent that has darkened walls. It's also double-walled to improve ventilation during hot days. 
The exterior is a patent fabric that can block up to 99% sunlight. Its outer shell is light-colored to stop sunlight from entering the tent. This tent can withstand up to 50 km per hour winds and 2000 mm of water per hour.
Pros
It weighs 3,3 kg, making it one of the lightest blackout tents
It comes with a double skin that gives significant rain protection and keeps the inside darker
Crua Outdoor Tri 3-Person Insulated Tent 
This is a three-person blackout trailer offering unique features than other tents in this category. For instance, it has TT insulated quilted material that can completely block light. This material also provides insulation during cold nights. 
The Crua Outdoor Tri 3-Person Insulated tent isn't too hot during the day since its ventilation allows air into the tent. You can totally block the light when fully zipped, although you can roll its three windows to look outside. 
When it comes to waterproofness, this tent has a 5000 mm hydrostatic head, making it 100% waterproof. Its insulation also minimizes its condensation. 
Pros
Durable
It comes with an extra porch space
 It has a ripstop to prevent punctures and ripping when it tears
Snugpak Bunker 3 Person Tent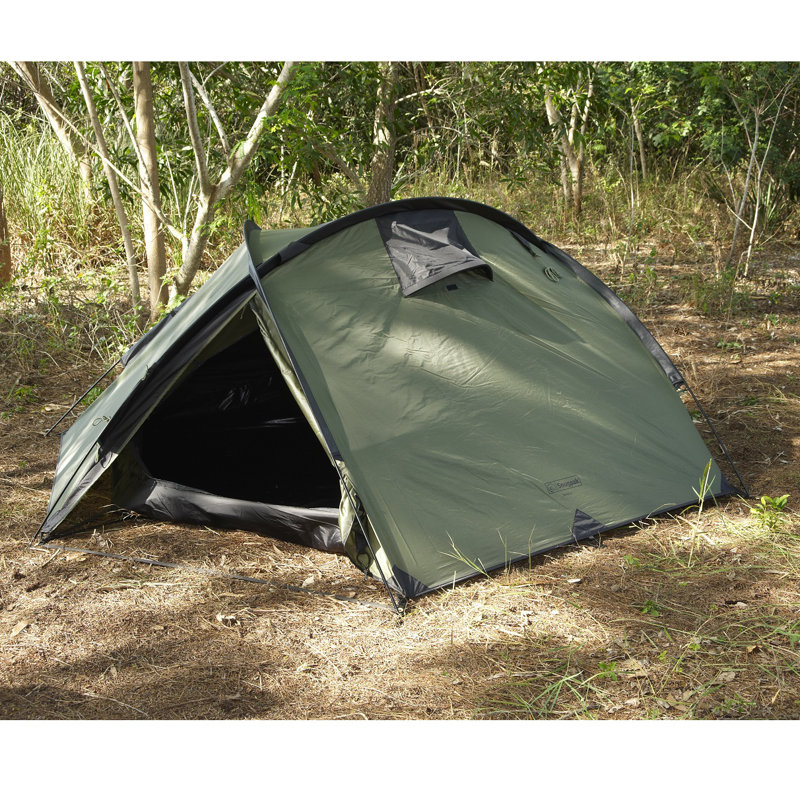 Bunker Tent
wayfair.com
Check price
The Bunker Tent by Snugpak is built and designed for long-term hard use. With its 5000 mm PU Coated Fly it can handle large amounts of rain as well as surpassing many other tent manufacturers with ...
This is not a fancy darkroom blackout tent, but it's nicely shaded to guarantee comfort for three people. It's made with heavy-duty materials and dark colors to block out light.
Despite its lack of fancy features, the Snugpak holds a reputation for its DAC Featherlite NSL anodized poles, which are incredibly durable and lightweight. It also comes with a 500 mm hydrostatic head ripstop 210T polyester fabric, offering ultimate waterproofing capabilities during storms. 
Pros
Lightweight
Offers the required sturdiness during storms
Cons
Not entirely cool in the hot sun
It doesn't have additional blackout fabric
Revolutionize Your Outdoor Camping Experience Today With the Best Blackout Tents
Blackout tents are undoubtedly a life-saver when it comes to outdoor camping. There are a lot of options to consider. However, you should pick an option that matches your budget, the number of people you intend to include in your camping, and the overall experience that each tent offers. Hopefully, you'll be able to make the right choice from the above options of the best blackout tents of 2022. All the best with your camping! 
Post ID: y711xZPEE
Category ID: 8mnzg6x
The responses below are not provided, commissioned, reviewed, approved, or otherwise endorsed by any financial entity or advertiser. It is not the advertiser's responsibility to ensure all posts and/or questions are answered.